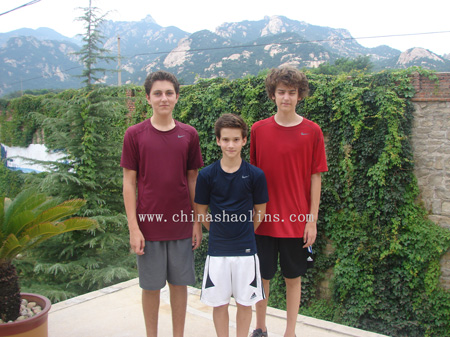 Kids team stayed for one month from July to Aug to learn Chinese kung fu and culture here.

Nicolas Z. (USA)

I believe that studying Kung Fu in China is the best way that somebody can learn Kung Fu. Kung Fu from where I come, the United States of America is not as authentic or pure. Kung Fu began in China; therefore, training and practicing Kung Fu in China is the best place to learn the martial arts.

I have learned a great deal of discipline whilst training here. I have also become wiser, due to the time given to think, through meditation.

My master inspired me, through his wise words, and stories of when he was a young boy training Kung Fu. I respect my master for being friendly, helpful, devoted to the martial arts, and for caring about his students

I wake up with my two cousins. Sometimes I did Taichi. Then I eat breakfast. Then, I train, my master helps me improve. Then, I have a 30 minute break and train some more. Later, after lunch and about two hours to rest, I train again. Later, I relax, and then eat dinner. Then, I sleep.
My master is very kind. He helps me learn a lot. The translators are very nice. They help make me feel comfortable.

I love the surroundings, and the Yantai city. The lake is wonderful. The mountains are amazing.Thank you to everybody at the Kunyu Moutain Shaolin Martial Arts Academy. They will be missed greatly.

Email:nicolassneider@me.com

Eitan Sneider (USA)
China is the birthplace of Kungfu and we felt it was appropriate to study in China.
my gained flexibility and my endurance for training.My training was difficult,but I LIKE. The translators are very nice and very good at speaking English. My master made improve very much and was a big help through my stay.

Yantai city is very nice and the AEON mall is very useful. The mountains and lakes are beautiful sights.
Email: eitansneiderl@gmail.com