Lorenz Spieth (Germany) Nine months Wing chun Course till 2019 June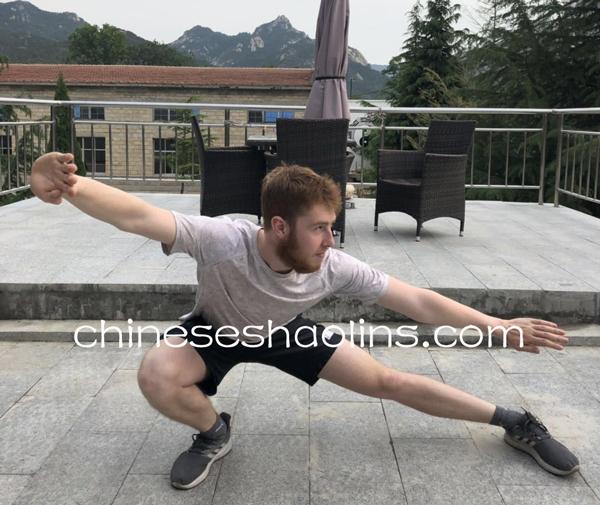 I always wanted to go to China. I also wanted to learn Martial arts, so that was the perfect combination. I decided to find that kind of training, because then I get forced to train. I needed people to push me.
Now I am in better condition, I am happier, fundamental understanding of Wing chun, Shaolin, Qigong, Xingyi, Sanda(Chinese Kickboxing), Taichi, Calligraphy, mandarin. Master, Coach, students. Everybody has the same mindset. Perfect to improve yourself. The training itself was getting better and better every week. At the beginning, it is hard. Everything pain and I was exausted. I got many friends here and have now connections all over the world.
I will never forget my masters. I learned so much from them. The surrounding are good. The air is good for China .
Email: Lorenz.spieth@gmx.de Facebook:Lorenz Spieth

Lena-Sophie Koerbl (Germany ) Nine month Wing chun course till June 2019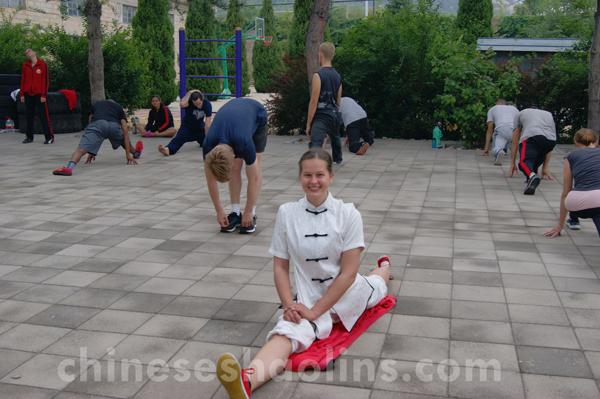 I choose to come to China and train Chinese Martial Arts because I was fascinated of what a person is able to do, if they really put efforts into it. Of course were Bruce Lee and Jackie Chen movies part of that fascination. I also wanted to get to know the Chinese culture more and learn the way how you can achieve the goal of becoming a true martial artist. After I finished school. I just packed my bags and started this adventure. I gained a lot from staying in China for nine months. With that I don't only mean the training(where I learned a lot of course), but also on the social aspect. During my stay in Kunyu Mountain, I met many amazing and inspiring people, that made the experience of studying Martial arts in China more amazing. I also enjoyed the Mandarin and Calligraphy classes, which helped me understand the Chinese people and their culturebetter. I think that are the big achievement that I reached here, because I wanted to learn many things and I actually did learn a lot(more than I expected to).
Who influenced me a lot is definitely my Master,Master Guo, Wingchun group). He is a true martial artist and a big inspiration(and you have to see him, when he is showing you new moves… it's amazing!). Aside from him I had many people that helped me a lot, especially at the beginning when everything was new. Having people around that help you without getting angry at you although you ask them for help for the fifth time already helps you a lot to get better and more confident in what you're doing to the point where you can help other students.
Living in the academy (in my case the old building)with all those different people from all around the world was an amazing and (I know it'll sound very cheesy) for me life changing experience. Being in a place that is so calm as it is here makes you relaxed and train hard at the same time. I really liked the surrounding the school was places in, because you have not too much traffic, good air and a nice view on the mountains. On the weekend, you can go to the city, which is not too far away and get whatever you need, but you can also get many things in the local supermarket, which is just down the road if you leave the school. Of course not everything is one hundred percent perfect, but it doesn't has to be perfect. Whenever you need something you can ask your friends that you'll meet here, the translators and your masters. I can just speak for myself and I can say that I wouldn't choose another school, if I would have to go back and make the choice which school I would go to again.
It was an amazing experience for me and I can just say:"谢谢昆嵛山"(THANK YOU KUNYU MOUNTAIN)!
Email:Ls-koerbl@web.de Facebook:Lena-Sophie Kortt

Pasquale Luciano from Italy One month till June 2019
Why choose China to study Kungfu: To have a new experience. Curiosity. What I gain: The ability do go over pure, body strength and will power. People who influenced and helped me: The masters, the coach and my fellow group mates.
Training was good with many lessons per day and a varieties of arts. Life style is pretty simple , most of the time was spend in training. Masters were great and translators were very supporting. The surroundings are really gorgeous. Nature here is really one of a kind and it was super nice to go out and train on temples.
Email:Pas.Luciano84@gmail.com