Three Sanda&Shaolin Kungfu Reviews from Kunyu academy .
Nine Months Training in Chinese kickboxing group till June 2019.
Daisy Khadija Quinn (Ireland)
I choose to study Kungfu in China, because I wanted to see the world and study martial arts at the same time. I gained a lot of strength and flexibility throughout my stay at Kunyu Mountain Academy. Additionally I got to meet awesome people and made new friends. When I arrived, I decided to join the Sanda(Chinese Kickboxing) group.
My first few weeks at the academy were very difficult, I weighed 92kg, had no endurance whatsoever and could barely keep up with the group training. With the help of my Master (Master Gao), Coach Jamal and the other students (old and new), I was able to push through and keep going. Now, ten months later I weigh 74kg, learned a lot of Sanda techniques/ Shaolin forms and developed great willpower. Also I would like to give special thanks to the translators, who helped break the language barrier between master and student and between Chinese and foreign students. The Academy is surrounded by beautiful mountains and lakes. The landscape is breathtaking, especially in winter. :) Thank you everyone for making my stay at Kunyu Mountain so memorable. Email:daisy.quinn1991@gmail.com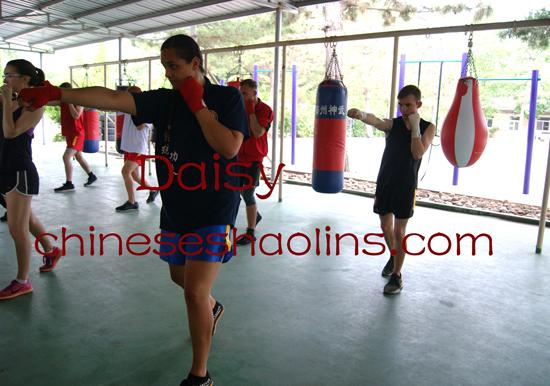 Stefan Boës Six Weeks course (Germany)
Dear Kunyu Mountain team please find my answers to the questionare in the following. Thank you for everything! I decided to train in China as I wanted to learn Shaolin Kungfu in the same way as it was taught for over thousand years. My motivation was to get an insight into a Shaolin training schedule, see if I am fit enough to participate in the hard training and meet true Shaolin Masters.
Over all the classes my greatest gain of my time here in Kunyu Mountain Shaolin academy is to be able to endure hard and exhausting training and to improve my mind body coordination. During my time in Kunyu mountain many people helped and supported me. First of all, of course, Master Sun and Coach Wen (Shaolin) and Coach Loc (morning Tai Qi and 5 o'clock Qi Gong) were teaching me everyday with a lot of patience and warm-heartedness. Also to a big part the Shaolin students were extremely supportive during training and daily life. And last but not least the translators helped me in a variety of different situations and I am very thankful for this.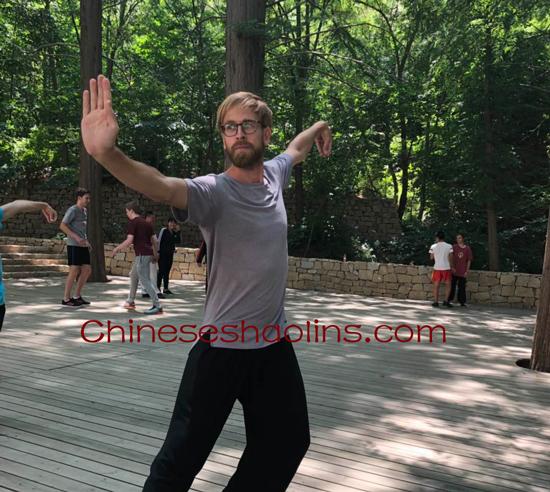 My everyday schedule was to start the morning at 6 AM with the Tai Qi class, followed by the three Shaolin training sessions and finally the 5 PM Qi Gong class. The first two weeks were about surviving, but after that I reached a state that despite the training being hard I still have a bit of energy left to do some extra forms or Sanda practice in the evening after dinner. Daily life involved three meals a day in the dining hall. I enjoyed a lot how lunch and dinner is prepared in a very healthy way and that there is a vegetarian option. For the breakfast it took a while for me to adjust to it, as it is very different from what I am used to. The big and also the group specific line-up are a great way to communicate important things to the students and I think the masters, coaches and translators did a great job in communicating well and taking up suggestions regularly. In my opinion, all the masters (as far as I got to know them) have very good values and express them everyday through their teaching. The translators give their best in trying to help the students and with every topic I approached them they were supporting me without hesitation.
The academy is situated in the Kunyu Shan National park. It was a great pleasure to see beautiful nature all around you and to have no distractions from hectic city life. But you are still close enough to visit Muping or Yantai for buying things or to eat delicious Chinese food. Email:Stefan.Boes@gmx.net Facebook: Stefan Boës

Pierre Emmanuel Bureau (Three months till June 2019)
I have choose china to learn Kungfu because it's where it has been created, for more authenticity. I'm use to travel so it does not scared me to travel 8000km.I wanted to be more complete in my life.I have gained technique, flexibility and the will to train even when I was injured with a cracked rib or just all the little injuries we have got during the training.Everyone helped, from the master to the student we have to train together. Sanda training is equilibrated, sometime I liked it and sometime not, but at the end that was good. The daily life was good, masters are strong and translators are competent.Kunyu Mountain is a nice place but a bit too windy sometime.
Email:Traceur2lyon@gmail.com