Three Kungfu Reviews from Kunyu academy .
Fiona Louise Adie and daughter:Sophia (Family Group from Australia) One month course till July 2019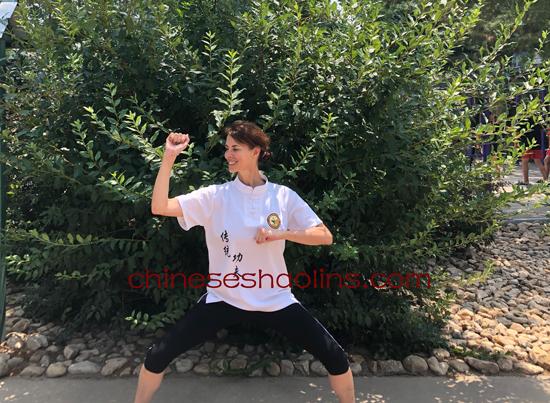 I choose china to study kungfu because my daughter is very passionate about Chinese martial arts and we decided that studying it in china would be more beneficial for us because of the high quality of teaching here. Both my daughter and I were inspired by the idea of spending time in another culture and being able to focus on getting ourselves fit.more focused mentally and fostering good life skills.
My greatest gain is the knowledge that I am stronger, hardier and more resilient than I realized I was. I have gained a lot more clarity of mind and feel much fitter and stronger physically than I did when I arrived. Master Guo has been an inspiring and patient teacher during this month of studying Wing chun and coach Loc has been very dedicated to teaching myself and the newer students during this time. I appreciate both the efforts very much!! I have also found the monitors and other students to be very helpful and supportive. I have really enjoyed daily life at the academy! Training has been challenging, but rewarding and the big break at lunch time is always good as you get a chance to rest before the afternoon session. I have benefited from the routine and also from the simple way of life here. Many good habits such as training hard, being resilient, living more simply and with less material belongings I intend to maintain in my life in future. The masters, coaches and translators work very hard and do a really good job! The massages have also been a big help in keeping my body in balance. And sun&self at the small shop have been really lovely and kept us going with ice creams.
My daughter and I both love nature and have really appreciated the beautiful surroundings. We have been for many evening walks and absorbed the lovely mountain view and wild flowers. Visiting Muping has been lots of fun and convenient. Huge thank you to master Guo, coach Loc and all the staff for their time and efforts. It's been a wonderful experience and we hope to come back. Email :Fionaadie@icloud.com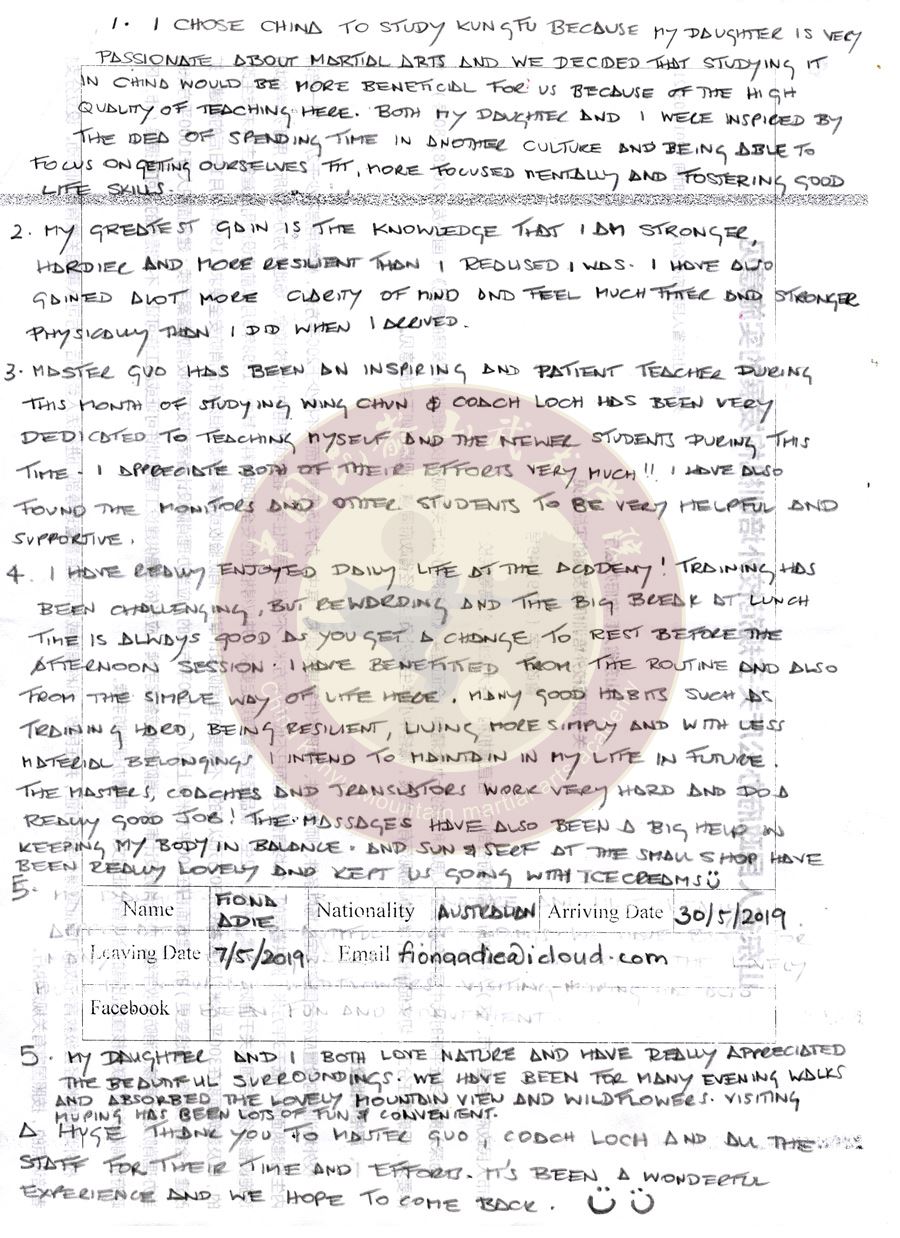 Daughter: Sophia de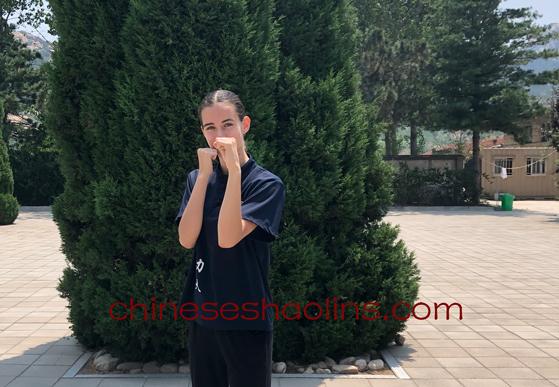 I love martial arts and really wanted to learn traditional Kung fu. I was also hoping to get fitter and build good life habits. I am very interested in Chinese culture and have started learning Chinese language. So I thought that coming here would be an overall great experience.
My greatest gain from my training here was been learning to become dedicated and work through pain. I have become physically and mentally stronger, and more willing to work hard. All the masters, especially Master Gao, have positively influenced me in many ways. All the international and Chinese students have inspired and motivated me to train harder. Coach Jamal has put a lot of time and effort into helping me improve, and has always been encouraging. I have enjoyed the simplicity and routine of daily life at the academy.
The food has always been good. Kung fu Training has been very difficult but very rewarding. And I have liked watching myself get stronger. The translators are all helpful and kind. Master Gao has been amazing. He always gives good demonstrations and encourage everyone to do well and have a positive attitude. I am very grateful for my time here and hope to come back. The surroundings are peaceful and beautiful, and the air has mostly been clear. Yantai is a nice city, and visiting Muping is always entertaining. Email: Sophia@soundplanet.com.au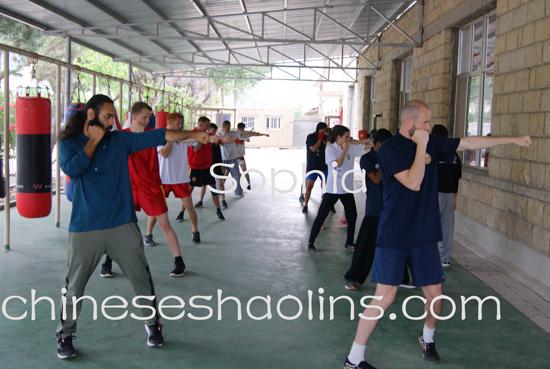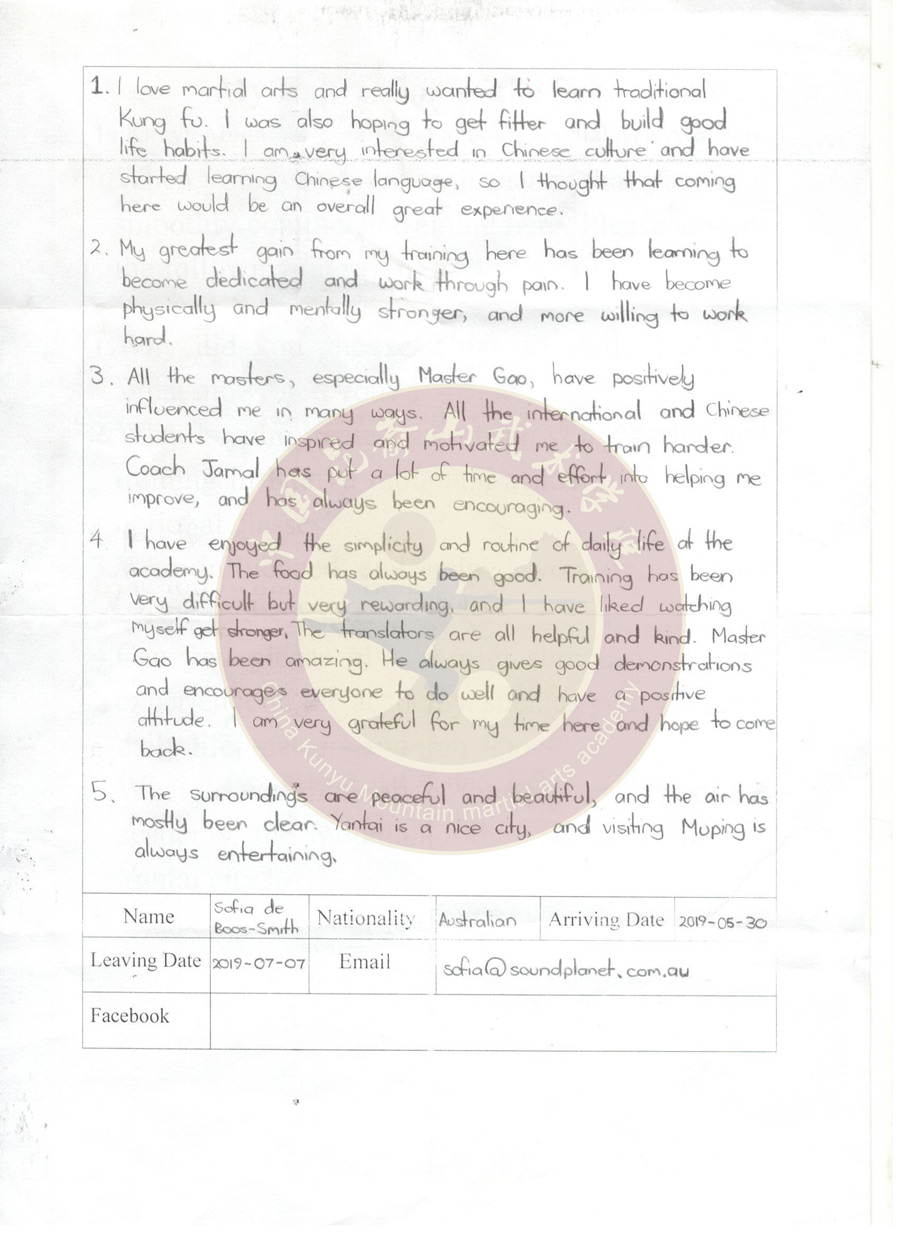 Richard Rapenne (France) Three months course till July 2019
I love china because I wanted to learn traditional Kungfu. Physically and mental improvement I gained in Kunyu academy: flexibility and endurance, self-confidence.
People who helped me: Mostly other students and the very good mood in Shaolin. Coach is also awesome with great spirit. I really enjoyed my line at the academy. Everyone is really friendly, training is hard but fun and rewarding. The masters are really good and it was great to learn from them. The area is beautiful.Thank you !
Email :Richard.rapenne@gmail.com Facebook:Richard. Rapenne