Two Shaolin Kung fu Reviews from Kunyu academy .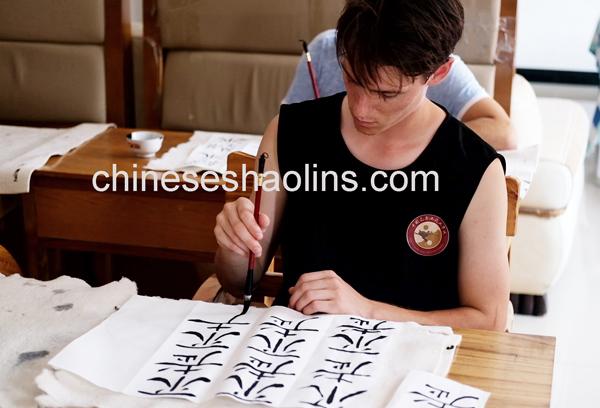 John was in Free Chinese cultural classes in the evening.
I had been gaining interest in Chinese martial arts for years. I read dozens of books, and bought videos online before realizing I needed to just start training.
What better place to learn Shaolin or Taichi than the birthplace of Kungfu! I wanted to push myself physically, build flexibility, useful muscles, train my willpower and improve myself discipline. I want to achieve mastery over myself through Kungfu. I knew there had to be places in China that taught authentic Chinese martial arts that could improve both physically and spiritually. That is what I was seeking when I found this place. I was also interestd in how the principles behind Shaolin could be helpful for other areas. Most importantly, I wanted to see if practicing Shaolin could make me a better stage acter. I received a great from my school to pay for the tuition here in order to help my studies. Would the body control I learned from forms improved the way I stood on stage? Could the explosive power be used to make a gesture in a play more emotional? Or maybe the endurance gained here could help me stay focused in a long play. These were also questions I had.
My greatest gain is probably realizing the kind of effort you need to put into training. It is not enough to work hard, you need to know what you need to work hard on. Practicing speed in a form is good, but you must do so with good technique and proper stances. Or if you do a move, but it has no power, then its not good enough.
Learning the essence behind Shaolin Kung Fu has been my greatest gain here, as it has led me to gain flexibility, strength, and confidence. And of course, it has shown me that this journey is long and you will always be learning. There's a lot I will need to practice and perfect.
I was influenced by many people here. Master Sun were incredibly kind and knowledgeable and I thank them first for my improvement. Coach Wen and Coach Loc were also very inspirtual to me and their private attention was always very valuable. Besides these two many of the students have helped make my time here memorable, and my training worthwhile. I name a few, Brett Guidy my roommate from Sanda group, Mikkel Peterson,from Wing chun group, as well as Josh, Chris, Erik, Simon, Annelie, Jeremy,and many others have all helped me improve in some way.
Daily life here is rigorous. we train often and depending on your personal commitment, you can train very hard. In general however you get accustomed to the long days. The students are supportive and the masters are avalible for private questions and lessons. The surrounding area is quite beautiful. I don't enjoy the streetlight flashing all night, but other than that the midnight is peaceful. I enjoy going for evening walks. Muping is close and convinient. The bus to Yantai is cheap and Yantai efforts a lot for people who want to swim, explore, or go to eat. The restaurants near the school are also very good!
All in all, Kunyu mountain can be a wonderful place to train if you come here with the right mindset.
Email: jmarinelli@marlboro.edu Facebook:John Marinelli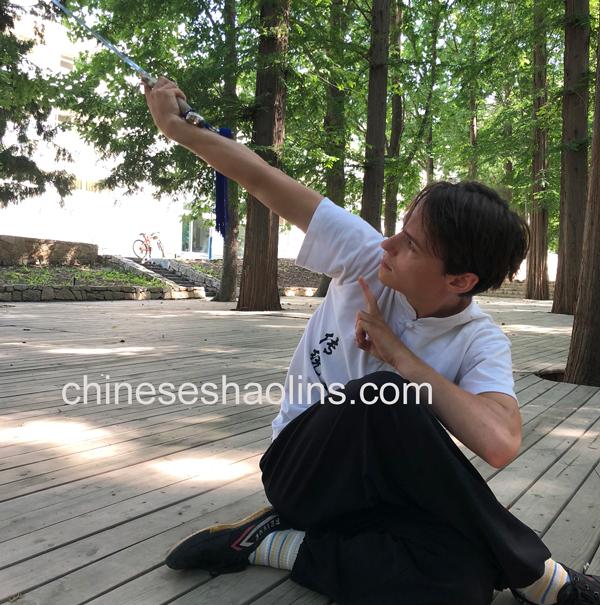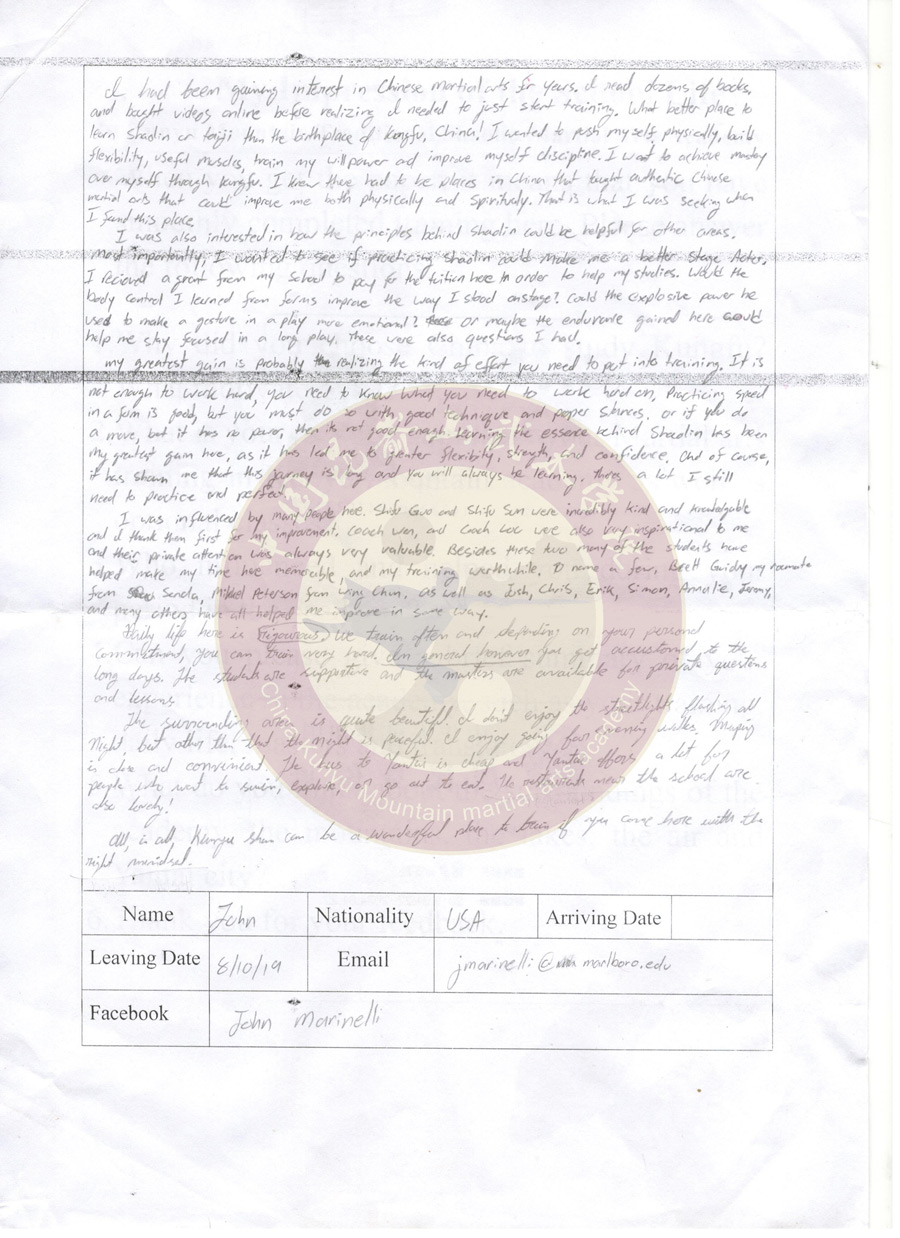 Returning Student:Jones Reeve (USA) Three months course till August 2019
I chose China because it was the birthplace of Shaolin kung fu. So there is no better place to study an art form than the place of its origin. My greatest gain is the self confidence that comes from pushing myself and knowing I can do difficult things. Another plus, is the friends I've made here. Joshua, the Shaolin monitor, has helped me a lot through encouragement to train harder, help in daily life, and his positive attitude.
I trained in Shaolin Kung Fu, with master sun and coach wen. Both of which are highly skilled martial artist, and wonderful teachers. The training was invigorating and helped me to tune up my martial arts experience and my physical condition. I always make the best friends of my life while I'm here. Hanging out with my friends in the evening is one of the best parts of my day. Larry, the translator, is the best translator that the school has. He is always in good spirit and does a good job at getting the master's point across. The mountains are insanely pretty. Every morning after I wake up I look out the window at the mountains and they never fail to delight me. This place is like a garden of Eden. The air is pretty great as well. The lake is cold and great to swim in after a training session. It's super refreshing.
Email : j.joe.reeve@googlemail.com
Returning student John.His Brother is study Kung fu here for One year now.

Nathan Pieter Becker (Holland) One month course in Aug 2019
I wanted to study traditional Kungfu at it's birthplace, I thought it would be healthy to be physically active a lot, and I wanted to get into a good life routine. And also improve myself and become more disciplined.
I now understand better that improvement in anything can be possible. You just have to be persistent and the improvement comes in very small steps. I also thank I have a better life habit when I get home.Coach wen taught me the most stuff. He makes jokes but is serious and strict when he needs to be. And he motivated me to train hard.
I really enjoyed the life here. It was good to have such a rhythm. I tried to train hard, Master Sun and Coach were always helpful, just like the translators. All the people were very nice and I really enjoyed. I had a really good experience.
The academy has beautiful surroundings. The mountains are breathtaking, and I enjoyed climbing them. The lake was really relaxing to swim at.
Email:Nathanbeckersmail@gmail.com