There are three reviews in the page with handwritten ones listed:
One Year course till August 2019
Mateo Iriarte (Switzerland)
I come here in China to study Shaolin kungfu because since I am young I have been interested in the shaolin way of life and training. And I thought it was a good idea to come here to be stronger in your body and mind. Here I got much more flexible and also stronger. Now I can do some acrobatics. Quite a lot of people helped me, influenced me and motivated me. Especially my friends, the master and coaches. All because I liked their style and it motivated me to train and get better.
The daily life here is very good: you can train all the time. A lot people are very friendly, the masters have a lot of experience and the food is also good. And work staff is helpful and nice. After all this, I liked the surroundings a lot maybe not Yantai so much but the mountains and the lake and the temple are very beautiful for me.
Email: Mateo@iriarte.ch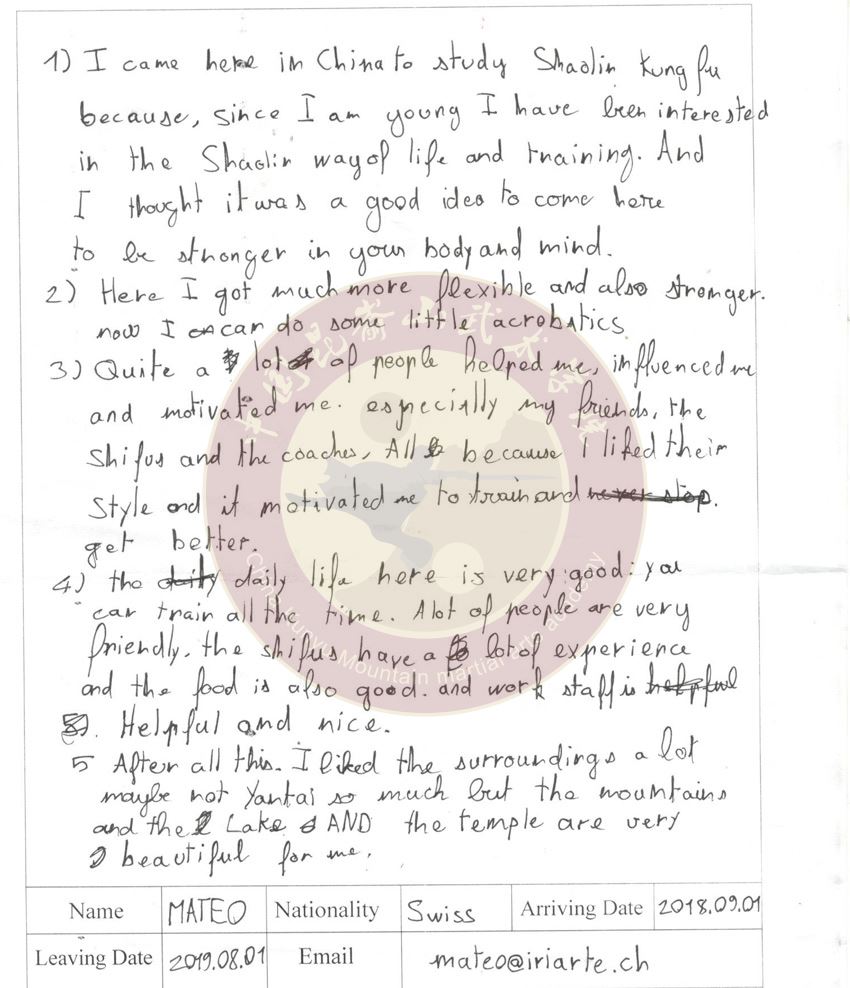 Jeremy Nathaniel Fields (USA) Two month Xing Yi till Aug2019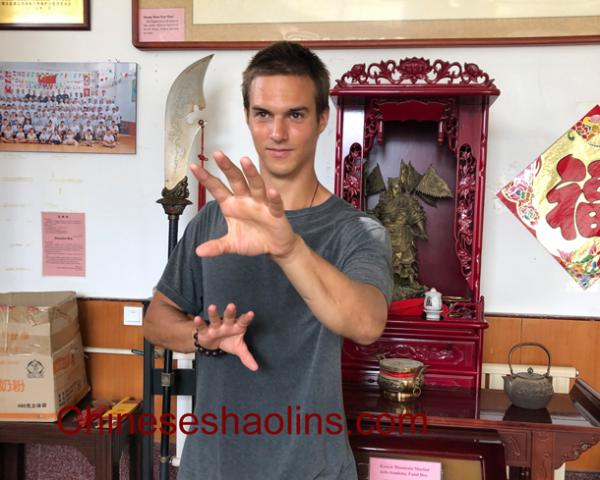 As the birthplace of Kungfu, china is a perfect place to study. I have gained a lot insight into movement, the body's potential and the joy of training and interacting with a lot of great people. Everyone was very helpful and influential. Master Shi was an excellent teacher and very inspirational. All the translators and staff are excellent.
My experience at the academy and in interacting with everyone has been fantastic and I hope to return here when I can. The surroundings are very beautiful. Yantai city is a great place and very easy to navigate.
Email: Cifyofshapes@gmail.com

Tommi Juutilainen (Finland) One Month course till Aug 2019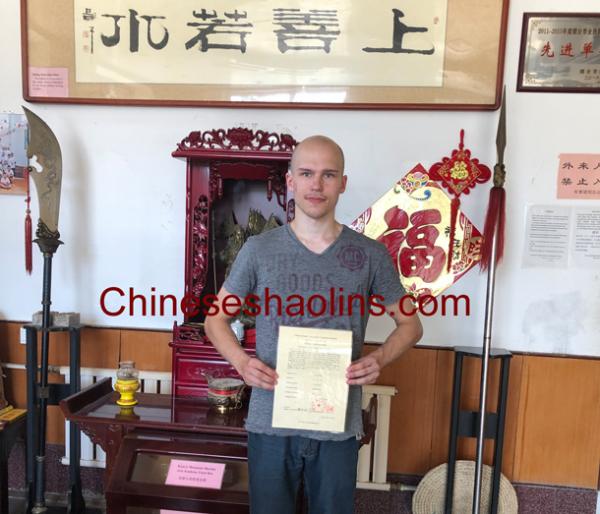 Since I was a kid I've wanted to learn Kungfu in CHINA. In Finland there isn't that great classes so I decided to come to China for more authentic experience. I've watched Kungfu themed movies and youtube videos which inspired me too.
I learned discipline, got stronger physically and more flexible. I also gained stamina and friends. People who helped me:Master, coach, Joshua, Adrien,Nathan, Pter and many more from Shaolin group. Of course the wonderful translators too! I had a great experience here and would consider to return when I can. The surroundings are beautiful and air quality is great. Really love the nature.
Email: Juutilainen.tommi@gmail.com Facebook:tommi.Juutilainen.