1) Why did you choose China to study Kungfu? What motivated you? After spending some years studying at university, I wanted a place where I could let my mind cool down and reconnect with my body, which I hadn't taken care of while studying. I've always appreciated Chinese martial arts (especially Wing Chun) and Qi Kung, so I thought the perfect place to practice would be the birth place of these arts.
2) What is your greatest gain from your Martial Arts training in Kunyu mountain academy as well as optional classes?
There is more than one, but the most noticeable one for me was a 20 kg weight loss. When I came to Kunyu Mountain Academy, I was 99 kg for 172 cm; during my staying I lost 20 kg. That weight loss helped me with my type one diabetes, which made my body more sensitive to insulin, which is a good thing! Besides this weight loss, I gained a lot of flexibility, focus and also the ability to relax thanks to the optional Qi Kung classes.
3) Who influenced you and helped you during your period in the academy? For the martial art, I was in the Wing Chun group led by Master Guo and Coach Lôc, both of whom inspired and helped me. Just to give you one example, since I was overweight I experienced some ankle pain from the increased amount of running, and Coach gave me and another student an exercise to do to help strengthen this joint so we wouldn't have this pain anymore. We did it and it worked! Also, I remember when I started, the monitors helped me by teaching me the basics of Wing Chun and they really did a good job (monitors: Darko, Merick, Jihe and Yohan) as well as the older students of the group (Boris, Chris, Lukasz, Mehdi and Sebastian). I have to say in general everyone in the group who was more experienced than I was encouraged me throughout the daily training. Last but not least, the Chinese students who set the example: Seeing how they train and perform is a constant inspiration!
4) Can you please give a brief summary of your experience in the academy such as your training daily life, masters and translator?
I've spent an amazing year here at the academy and in China in general. My experience at the academy was great! The training was tough, especially in the beginning, having to learn all the basics, not to mention being overweight didn't make the power training easy. But every time I was about to give up, my kung fu brothers and sisters, as well as Coach Lôc and Master Guo always pushed me to keep going and at the end it paid off! Also, I wasn't used to this kind of schedule with 3 mandatory training and 2 optional classes. But after a month my body was able to keep up the pace without trouble. The communication between the master and the students is very easy thanks to their availability and the translators who help make the conversation very easy. Overall, every staff member of the academy is really nice, do their job well and are ready to help us whenever we need. Also, if you need something practical like a sim card for your mobile phone, the small shop owner can take care of it. I also had the opportunity to meet great people from all over the world, make new friends, open my mind to other cultures and learn from other different points of view.
5) What do you think about the surrounding of the academy, the mountains, the lakes, the air and Yantai city?
The landscape of the academy is awesome. Every day you wake up and from the school you can admire the mountains. Because it is a village and not a city, we are mostly surrounded by nature which means clean air to breathe! It also means there is not a lot of car traffic, so it is pretty quiet which is ideal for Qi Kung. And in the summer, you can enjoy a swim in the lake nearby the academy. If you want to spend some time in a city, Yantai city is perfect for it: there are some beaches, a lot of stores, and everything you can expect from a city!
It was an awesome year for me! I don't have any complaints to make. As I mentioned above, I truly appreciate every staff member, from the translators, to the cooks, the doorman, the cleaning lady, small shop owners…. and of course, I am very thankful to every master and coach that helped me, and even more for Master Guo and Coach Lôc.
Email: zaccone.gaetano@hotmail.be
Facebook: Zaccone Gaetano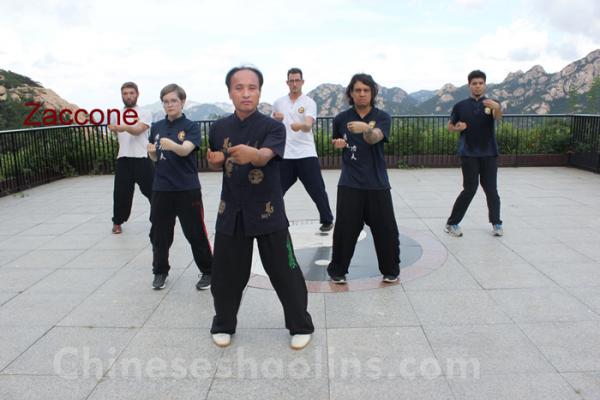 .