There are three Reviews for Shaolin class and Chinese kickboxing class .
One Year Shaolin Kung Fu course till November 2019
Fadi Ahmad Khaled Albattah (Jordan )
Email: Fadialbatta@gmail.com
Facebook:Fadialbatta
Their handwritten Reviews based on feedback paper are attached below:
I choose China to learn Kung Fu because it is the home of Kung Fu and where the Kung Fu start and what motivated me here is how Masters are good at doing Kungfu and also teaching it.
I gained a lot through the training. I am now stronger than before, more flexible. I learned acrobatics here for the first time in my life, and my body and mind working better. Also I have more control on my muscle. The people who influenced me the most are masters here. They are very good in Kungfu and I liked the most how they teach by example and they push you to descover yourself.
There are also many nice and interesting students here helped me and supported me. I like the school, the atmosphere was friendly and help you to focus on training, specially everyone will give you hand when you need. Masters here are very good especially my master—master Sun, he helped me a lot and push over my limit. He was patient and understood. He is a great teacher. Translators always helped me when I ask. They are friendly and nice, especially Daisy.
The location of school is perfect surrounded by beautiful mountains and lakes. Just looking around school for nature will change your mood to be better.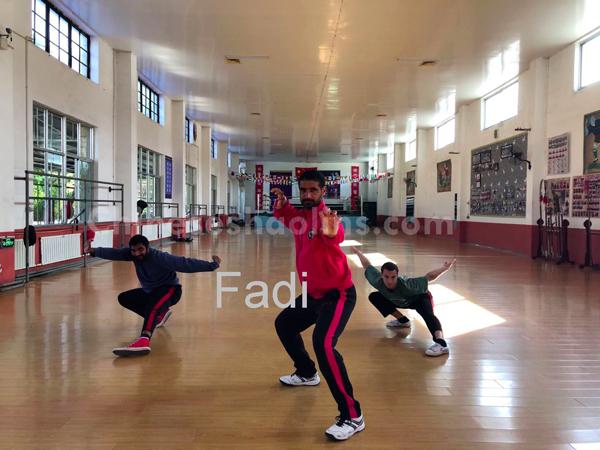 Fadi trained one year kungfu in Kunyu Mountain Shaolin Martial arts academy.

Maud Ahmadnia (France) Two month shaolin class till Nov 2019
Because of China is the place who give birth to Kungfu and therefore I thought I would find a closer connection to the Martial Arts than somewhere else. It was also the occasion to discover a new where and country. Tolerance towards the others and determination achieved. I didn't stay long enough to notice real change in the pracice of shaolin kungfu, even though I was a beginner when I arrive I had a little bit of knowledge.The training was somehow repetitive but coach know how to make it interesting and different. He is very involved in the group and every student's training, I'm glad I could train with him.(Master Sun wasn't here that much during my stay) The daily life was Ok,it's difficult to be independent back home and be back to a school that somehow think of you as a kid . The translators are for the most quite good, but some could be more relax with the students(they're not teacher) .It could be also nice for the students to have a kitchen where they could cook for themselves. The surroundings are beautiful, I enjoyed walking to the lake or the temples,everyday, it is a pleasure to wake up and see the mountains. Yantai and Muping are fun,to have some different experience than just the school, and real Chinese experience.
Email:maud.ahmadnia@yahoo.fr
---
Gisele Ishema (France) Two months course till Nov 2019
Email:Gisele.ikarekezi@gmail.com
Facebook:Karekezi Gisele
I have always wanted to visit China and I believe there is no better place to learn something than its birthplace.
The greatest gain I got from training was the perseverence One beginner must have in order to participate and improve. I think I learned a lot of life lessons through my training with master Gao such as discipline, heart,perseverence , trying instead of giving up or not trying at all and going above one's self. Master Gao was very influenced during my time.
I think that when someone expects a lot from you, you tend to be better. He is tough but that's a good thing because it makes us want to improve. He is also very understanding and has funny moments. I appreciated that a lot because he was able to put himself at our level and have conversations with us where he tried to make us better not only in training but in life. Coach Jamal was also very helpful throughout my time here. He was a great addition to Master Gao and a great person. I really appreciated the time he took sometimes to make us understand the reason behind what we were doing, what some forms mean or history behind what we did to contextualize things within the history of Kungfu.
I love the training with master Gao, very challenging and the spirit of Sanda group. I always felt supported by my comrades. I think the curfew on weekends is too early as to the time we need to be in bed.The surroundings of the academy are absolutely gorgeous and enchanting. It's very peaceful and allows us to recuperate and refocus on ourselves especially for those of us losting from big cities and busy lives.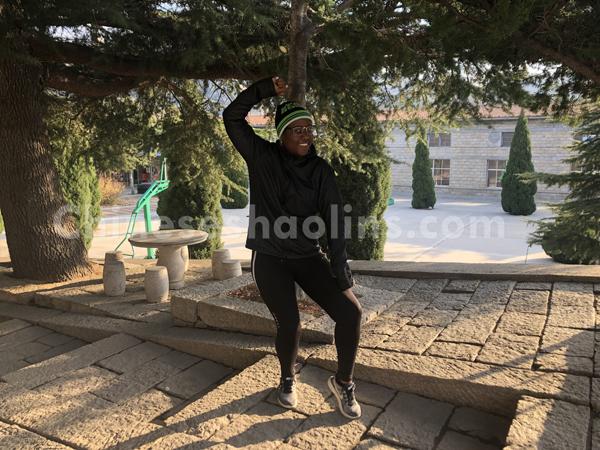 ---