Mikkel Aalund Pedersen (Denmark)
Email:Mikkel.aa.p@hotmail.com Facebook:Mikkel Aalund Pedersen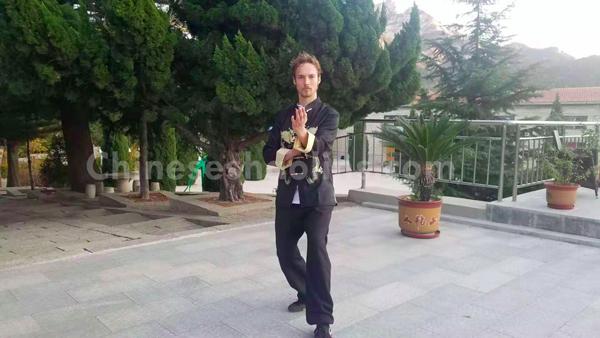 The reason for coming here: I wanted to get away for a while and just watched the TV-show "Iron Fist" where the protagnist practices Wing Chun. The Greatest gain: The healing and calmness from practicing Qi Gong and also the power generation from Baji.
My biggest influences in my time at Kunyu mountain has probably been my monitors. They all had very different ways of doing things but coach with their own wisdom and experience. But of course my teachers have also been a major part of my development.The training was physically very hard in the beginning but became easier over time as my body adapted. The techniques didn't feel so difficult in the beginning but the more I learned the more I could see I was missing many details and needed to train more.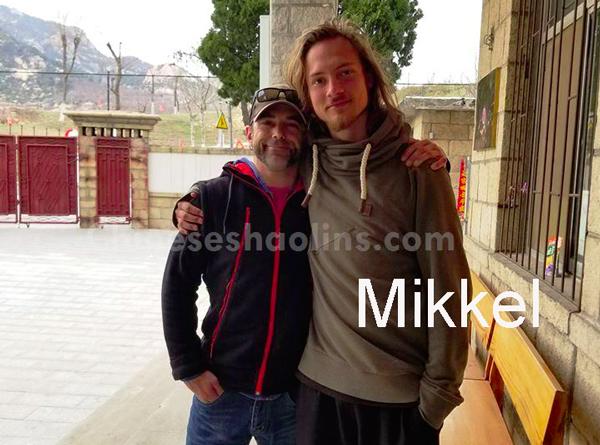 Daily life surrounded by amazing people from all around the world. You will always find someone who shares our interest. The masters here are all very skilled and knowledgable and with the help from translators they make the students feel welcomed and at home. The area around school is very beautiful and semi-rural. The air is nice most of the time except for the occasional cloud from Beijing.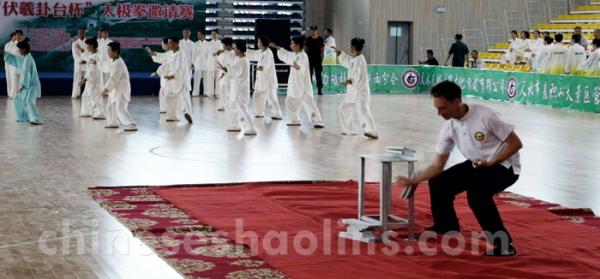 Mikkel broke double stone with Chi Kung performance in a competition.
---
Maria de la Paz Beatriz De Juan (Spain) One month Tai Chi Course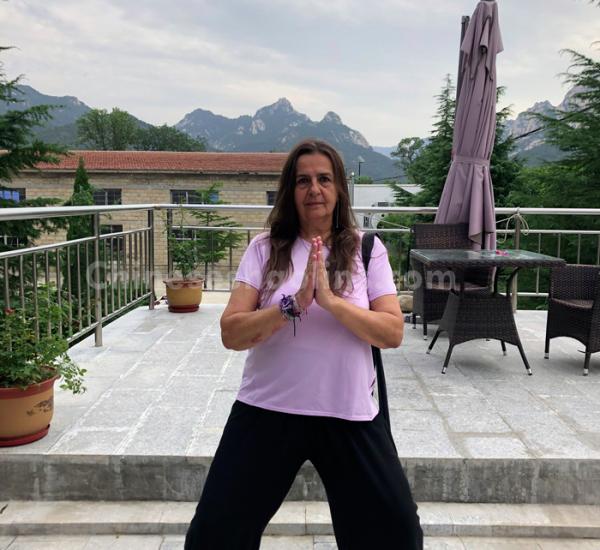 I choose China to study Taichi and Chi kung because I thought that China was the origin of the Taichi. I would learn a lot about it, not only movements.
My greatest gain was do more than I thought I would do. And also to have finish the month without a big pain with my back. The people influenced me: Master Guo, because he listened to me about my opinion on the the classes of Taichi. Also some students from Taichi group. The first week was very difficult for me. I don't understand very well English, so I never knew what was happening. I didn't do many training, because of my back. But I really enjoyed with the practice with Taichi. I think the training would be better with 40 years less than I got.
The masters are very good. I like them very much. But I would like more time with them. I felt that Taichi is not the same with other groups. I liked Chi Kung very much, but in the beginning was a little hard for me. I would like to learn a easy form of Chi Kung(like eighteen style), but I enjoyed with it. Thank you to Mater Guo for your warm smile and for teaching me the Taichi as I was looking for. Thank you to the Masters for your comprehension and help.
Email:Aquipaz@hotmail.com