Three Kung fu Reviews in this page and their reviews in handwriting based on our feedback questionnaire are at the bottom of page
Willem Van Der Boog (Holland) Three months course till December 2019
I've always loved to do sports and be physically active. So when i heard about this place, i was motivated instantly. I chose China because it is the birthplace of Kung Fu, and I would be taught traditional martial arts by Chinese masters.
My greatest gains have been building up muscle and learning various different Shaolin kung fu.Coach Wen has definitely helped me the most, especially with Shaolin forms and basics. Furthermore, my monitors Manuel, Chris and Josh have helped me improving my forms and basics. Apart from the training taught by the school, Jonas has helped and assisted me a lot to build up muscle. When i got here, the students were really helpful and helped me to learn my first basics. I really appreciated that, because i immediately felt like a member of the academy. During my training, Coach Wen helped me the most.
The atmosphere in the group was always really good, and coach and Shifu pushed us in a good way. Even though communicating with coach and Master was not always easy. I had a really good relationship with both of them. In the weekends, there are a lot of things to do. If it's warm enough you can go for a swim in the lake or go hiking in the mountains. You can also go to Muping and Yantai to see the city or buy clothes.
Email:willem@vanderboog.com
---
Per Simon Ebbestaahl (Sweden) Two month course till December 2019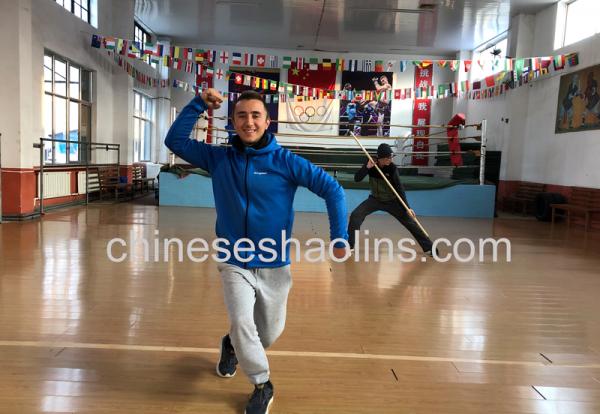 I came here to China to move far away from parts of the life I was living back home. I wanted to travel through half the world and put myself in a new, challenging situation so that I could grow past the weaknesses I had back home. Even though training is what the majority of the days consist of, my greatest gain is the people I've met here.
You get to know on abundance of interesting, inspiring humans, who can teach you a lot about life. Among the work staff at the school I've been mostly influenced by Coach Wen in Shaolin and Daisy, the translator. They're both amazing human being, with humor and care in everything they do.
For someone not used to training and discipline, this place could change your life. We train, eat, sleep, repeat. It really gives you a clear sense of direction to live like that. I've not visited Yantai city that much, and you don't really need to, because the location of the school is beautiful and peaceful. It's surrounded by mountains, and even small lakes to take summer(for winter) swims. Thank you.
Email:SEbbestahl@gmail.com

Lucas Alain Andre (France) Two month course till Nov 2019
Email: luca.andre@hotmail.fr Facebook:Lucas Andre
I choose China to study Kungfu because it is the most authentic place to do so for me, as kungfu is a chinese martial art. I wanted an intense traditional training to improve fast because the way it is taught in France is mostly only some hours a weeks. It was also a great way to discover China without being just a tourist.
My greatest gain is probably having a stronger will to overcome my limits. I've had to do it sometimes during the training, to run up to the mountain for example, and I didn't think I was able to do this before coming here. I realised my body was able to do much more than I thought if I was believing I could do it and if I had enough motivation.Obviously, coach and master helped my during the training but not only them?: every student in Shaolin group has helped me, either by correcting my mistakes, giving me advises or encouraging me. I also tried to follow the monitors' spirit to always do better. The translators also helped me and were always available if I had any questions concerning China or if I had to talk to any Chinese person. My experience in the academy was even more interesting than if thought it would be, mostly thanks to all the people I met here.
I think the schedule is globally good, with enough training to improve very fast but not too much to leave you some time for optional classes and rest. I haven't done any kungfu before and I enjoyed the content of the Shaolin training, I also enjoyed the Sanda classes even if I can understand some people don't having that much in a Shaolin training. Before coming, I was expecting a pretty severe master to train us, but in the end Master Sun and coach Wen's friendly attitude was probably the most important thing I will remember from my experience here: it made the training time such a better moment and made me want to train very hard. The translators are also very friendly and it made me comfortable when I arrived and when I had any question to ask them, and this is very important because they are the only way we have to interact with the school's staff. The Kunyu mountain area is a really nice place, and that was one of the reasons I came here: the mountains and the lakes are really beautiful. I haven't been to Yantai city lot of times but it is nice to have a big city not too far when you have to do things there, even if it was not the purpose of my stay here.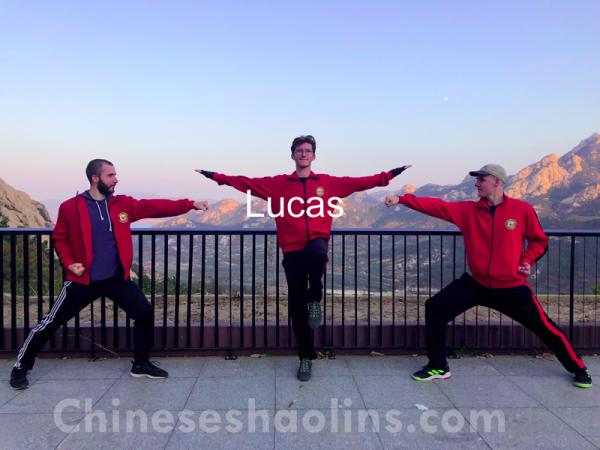 Thanks to you (whoever is reading) for this experience, it was great and I wish I'll be able to come back one day for a longer stay.
---