Williams Jeffrey (USA) One Year course till 2014
I chose China because it is the birthplace of kungfu. I was motivated by the health and peace kungfu brings.
I got Discipline and peacefulness through training in kunyu academy.
My wing chun masters helped me the most, he is not only a great master but also a great man who taught me a lot. Old students like Scott, Sam were a great help too. Sarah, the translator is an amazing person, always goes out of her way to help us all.
My experience here was the best time in my life. I came here for a better life style and a career which would obligate me to maintain that better lifestyle. I received what I wanted here and more, I got a second family, from the staff to the translators and masters. Everyone has showed me concern and compassion.
Everyone here is friendly and kind and would help you with anything they could. My master is an amazing kunfu master and person. He could motivate you with two words " come on". He is kind, patient and very inspirational. I look forward to coming back as much as possible to train under him again.
Yantai is a very beautiful city, the mountains and surroundings of our school are very peaceful and quiet, great for the training.
Email :wingchunhmd@yahoo.com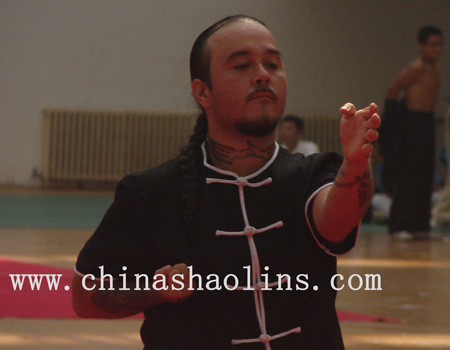 Jeff took part in the July and August 2013 International Traditional martial arts competitions held by Yantai city,and got great records.