Ten months Shaolin Kung fu course till Aug 2020
Carla Vázquez Vicente (From Spain)
Email:carlavvzc@gmail.com
Her another Email: agnespider@gmail.com
The reason why you go China to study Kung Fu?
1. Being China the original birthplace of Kungfu, coming here seemed the best way to really understand its roots and its significance to the culture. My passion for both martial arts and learning, and my desire for traveling and getting to know different cultures.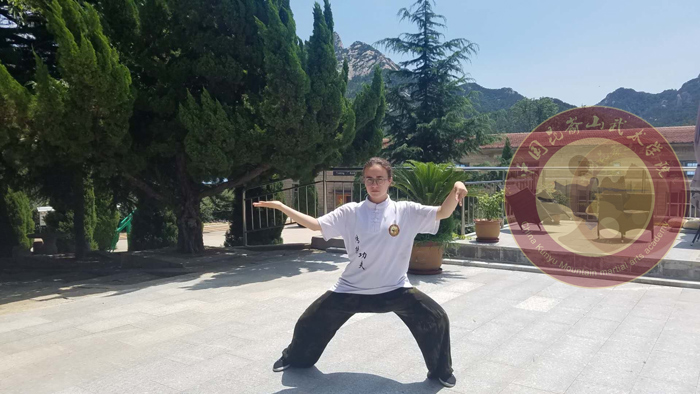 2.What is your greatest gain ?I've gained so many things during my stay here, but the most remarkable one is strength-physical and mental. The moment I arrived here I started a healing process that hasn't finished yet, but has gone really far and has already changed me as a person. This place has been testing me everyday, and so everyday was a challenge that I always tried to conquer. My goals might have been humbler than others'; there are a lot of things that I haven't even thought about doing because I know I'm not ready yet. I've learned to push myself while respecting my own limitations. I've gained more confidence, even if it's still small and blurry, it's appearing again. I'm not the strongest-but I'm stronger. I'm not the best at this-but I'm better now. I'm not the most-but I'm more: that just means that I'm growing and there's no way I could stop now. It means I'm creating someone I don't know yet. I'm starting to live again.
3.Who helped you through the stay here?
All the masters (especially master Sun and master Guo), coaches (especially Wen and Loc) and all my classmates (both from my group and others, both international and Chinese).
4. Please offer brief summary of your experience here.
I've spent most of my time here in the Shaolin group, with brief periods of time in which I've trained with the Sanda group. I've been taking the Taichi and calligraphy optional classes, and tried to train in the evenings from Monday to Thursday, as well as walking Heibei(a German Shepherd Dog) everyday.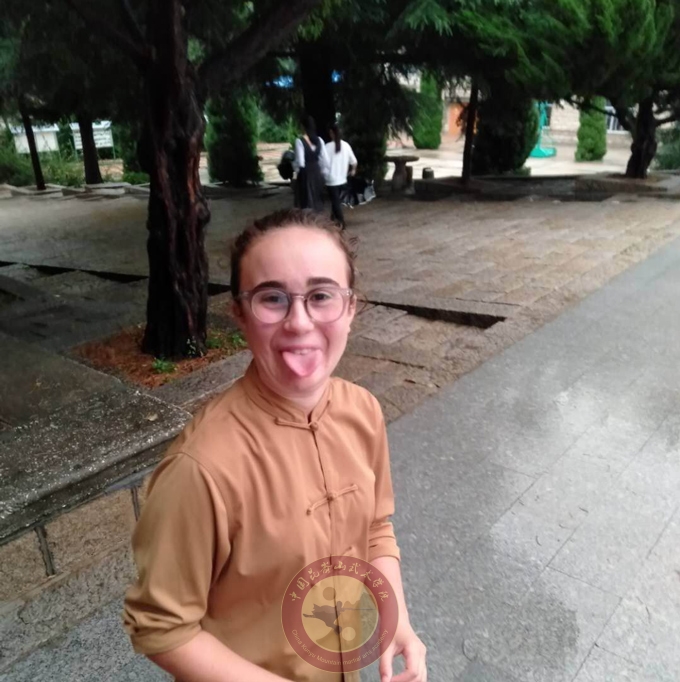 Carla was in school yard.
I've been treated with care, kindness, discipline and exigence by my masters and coaches, and I've always received the best attention and service from the translators. All the work staff have treated me respectfully and they excelled at their jobs. I'd like to remark how well the school handled the pandemic at its worse, for it was an unexpected event that could have caused so much trouble to us foreigners and to the academy itself. I think the mountains and the surroundings in general are truly gorgeous and special; the first time I saw them in the daylight I felt I was in a movie. The mountains have protected us from the chaos the world has been in the past months, and now they feel like a home to me.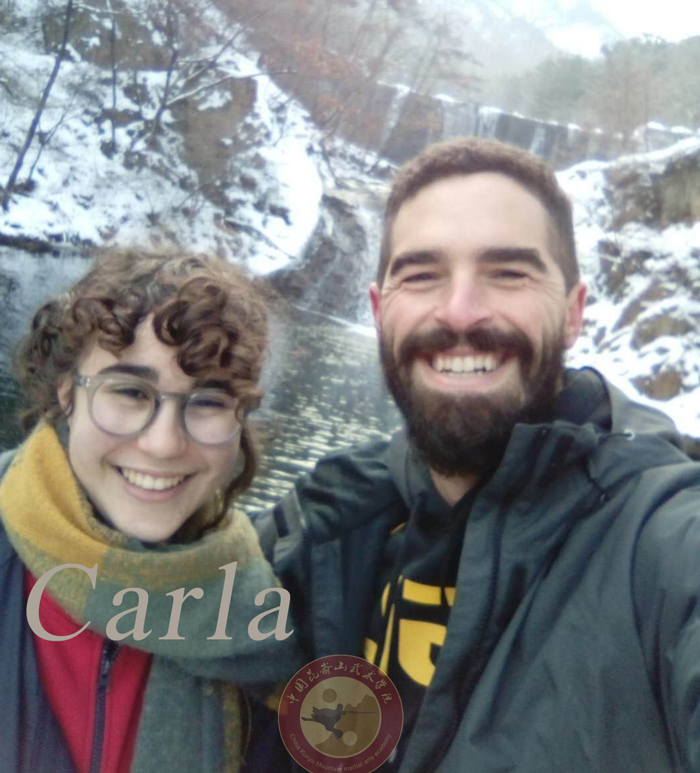 Carla (on the left) and another student Brett who has been training kung fu here for almost two years in Kunyu academy.The waterfall view is from kunyu mountain next to us in winter.
--------------------------------------------------------------------------------------
Name: Sigurður Kristinn Jónsson Nationality: Iceland
Arriving Date: 6th of January 2020
Leaving Date: 6th of December 2020
Email: kiddiddi@gmail.com
Facebook: facebook.com/siggikiddi
1. Many years ago a friend of mine came to this exact academy to study martial arts. I wanted to do this for so long but what finally motivated me in the end was my lack of motivation, I needed to get into an environment that helps me push myself to the limit.
2. My greatest gain coming to Kunyu Mountain Martial Arts Academy is definitely that I've learned to take action a lot more quickly. I've also improved my health and wellbeing.
3. The masters influenced me a lot as well as the other students. I like to learn from the good and bad habits in people, for example from some people I learned to keep my spirit up from others I learned patience etc.
4. When I first came to China I was a bit nervous, an unknown country where I do not share a common language with many people but that didn't last for very long. The staff at the academy made me feel almost at home straight away and eventually as soon as I got to know other students the academy felt like my home. When I started training I was a slow learner and definitely not in good shape but with hard work I gradually got more fit and flexible over time, also my posture improved a lot. The masters did their best to make sure that the students were not lazy and they made the training fun and exciting.
The translator team worked hard not only to translate during but also help me with my daily life, without them my time here would not have been as smooth as it has, they definitely deserve a big "thank you" from all the students.
In the academy there is a small convenience shop that sells goods for convenience. The owner of the shop is amazing, he made sure I had phone service and even though he took a small fee, he went out of his way helping me when I needed help, like for example going to the dentist.
I rarely had to worry about meals because the food staff provides three meals a day. In the end I got a bit bored of the food but at least I did not have to worry about getting hungry.I admit that my experience here has not always been marshmallows and pots of gold but through hard work, the support of the staff and my fellow comrades I survived and really enjoyed my time here!
5. Around the academy there is an absolutely stunning mountain area with lakes.
Usually on Friday afternoons, if the weather conditions allow for it, we'd take a stroll up to the mountain to do some running and if you go further there is a big flower field that I like.The cities around were not far away and I ended up going almost every weekend.
During the epidemic, the students here at the school were not allowed to travel or stay anywhere overnight. I'm sure my experience here would have been a lot different if I could actually have done some traveling but on the other hand, I'm sure that I could not have spent my time during covid-19 at any better place than the academy.
6. You are very welcome.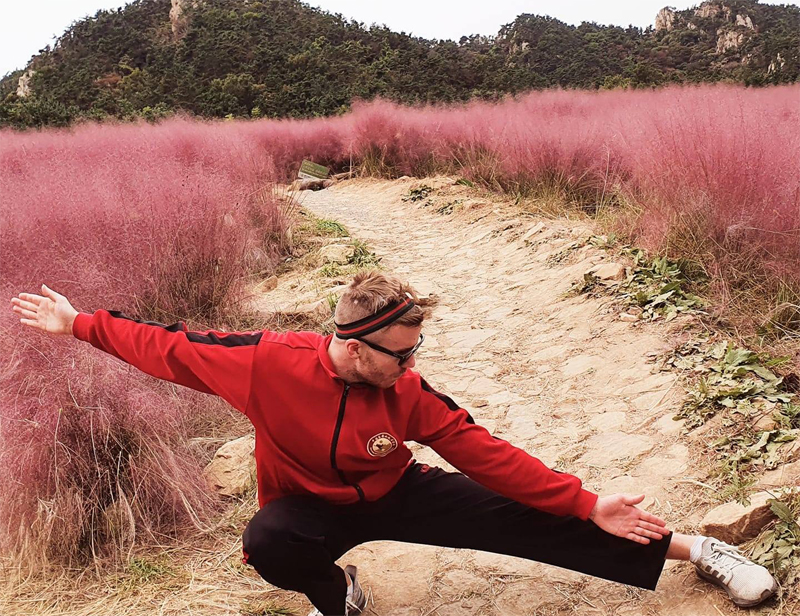 Sigurður Kristinn trained Kung fu for one Year here.
Notice: