Ten month Shaolin Kung Fu course till August 2020
Carla Vázquez Vicente (From Spain)
Email:carlavvzc@gmail.com
Her another Email: agnespider@gmail.com
The reason why you go China to study Kung Fu?
1. Being China the original birthplace of Kungfu, coming here seemed the best way to really understand its roots and its significance to the culture. My passion for both martial arts and learning, and my desire for traveling and getting to know different cultures.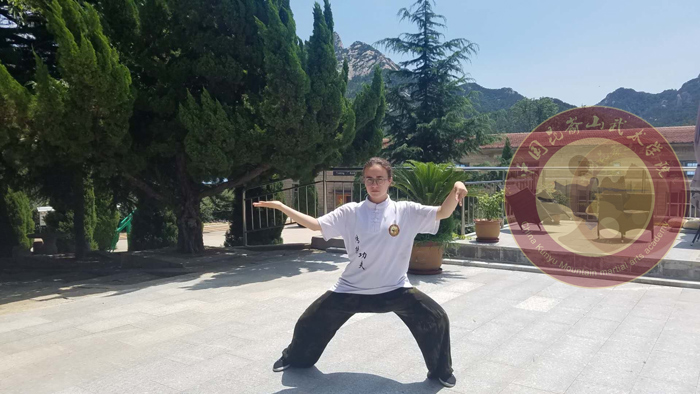 2.What is your greatest gain ?I've gained so many things during my stay here, but the most remarkable one is strength-physical and mental. The moment I arrived here I started a healing process that hasn't finished yet, but has gone really far and has already changed me as a person. This place has been testing me everyday, and so everyday was a challenge that I always tried to conquer. My goals might have been humbler than others'; there are a lot of things that I haven't even thought about doing because I know I'm not ready yet. I've learned to push myself while respecting my own limitations. I've gained more confidence, even if it's still small and blurry, it's appearing again. I'm not the strongest-but I'm stronger. I'm not the best at this-but I'm better now. I'm not the most-but I'm more: that just means that I'm growing and there's no way I could stop now. It means I'm creating someone I don't know yet. I'm starting to live again.
3.Who helped you through the stay here?
All the masters (especially master Sun and master Guo), coaches (especially Wen and Loc) and all my classmates (both from my group and others, both international and Chinese).
4. Please offer brief summary of your experience here.
I've spent most of my time here in the Shaolin group, with brief periods of time in which I've trained with the Sanda group. I've been taking the Taichi and calligraphy optional classes, and tried to train in the evenings from Monday to Thursday, as well as walking Heibei(a German Shepherd Dog) everyday.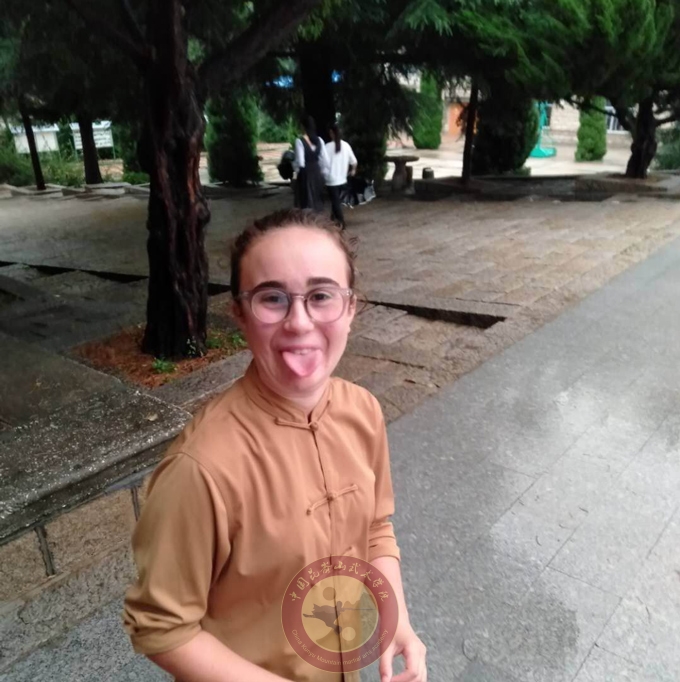 Carla was in school yard.
I've been treated with care, kindness, discipline and exigence by my masters and coaches, and I've always received the best attention and service from the translators. All the work staff have treated me respectfully and they excelled at their jobs. I'd like to remark how well the school handled the pandemic at its worse, for it was an unexpected event that could have caused so much trouble to us foreigners and to the academy itself. I think the mountains and the surroundings in general are truly gorgeous and special; the first time I saw them in the daylight I felt I was in a movie. The mountains have protected us from the chaos the world has been in the past months, and now they feel like a home to me.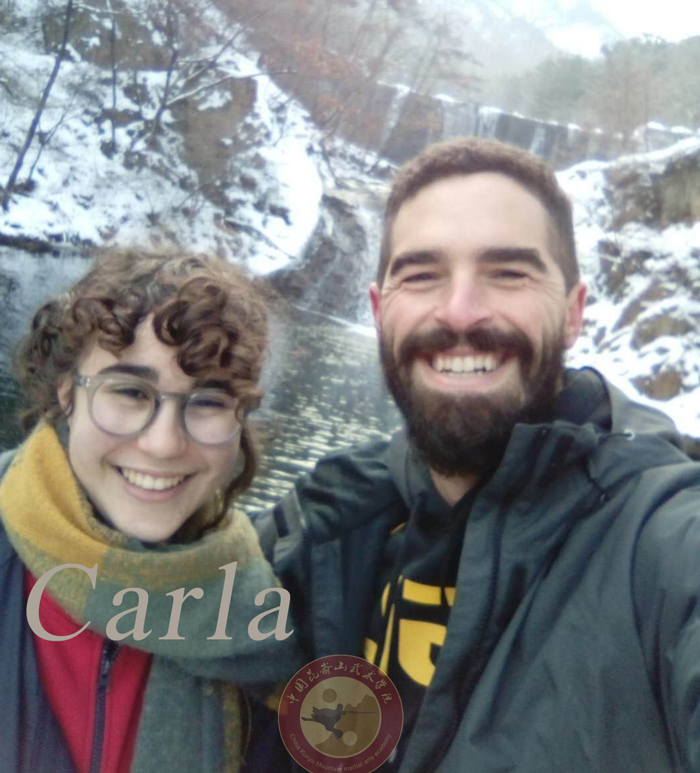 Carla (on the left) and another student Brett who has been training kung fu here for almost two years in Kunyu academy.The waterfall view is from kunyu mountain next to us in winter.