This page contains Three Tai Chi class Reviews from Kunyu academy .
For as long as I can remember, Chinese Martial Art has always been a passion. Coming to China and train Chinese Kung Fu has always been my biggest dream.I always wanted to learn Martial arts but never had many chances to do so. When I found this school online, I made my decision.
I enjoyed living here, waking up, eating, training, sleeping. It was really nice to just focus on training every day. Some days were harder than others but training through those days makes everything ok . The staff, the translators, the masters were all great. Always there to help when we needed. Lots of international students helped me a lot, and the Chinese students as well.I'm very grateful for all of their guidance and help, without them my experience would not have been so good. The Kung fu training is very good, I have gain weight (no no that is from the Banana Bread, Croissants… at the Small Shop), I become stronger, relax, more flexible and it helped me to improve my muscle ability, mind and body coordination.
My Master is extremely skilled in Chen Style Tai Chi.I'm happy that I got to be under Master Wang, and learn from him. He is a great martial artist.He was hard with his training, he was fair orderly and extremely patient with my lack of knowledge.And it is great how he is strict under training while keeping the spirit up in the group.
I have learned a lot from Master Wang, and I'm honored to have had the opportunity to train under him.Master Wang is amazing and I wish him all the best with the rest of his martial arts journey.The training sessions we did at the lake and the mountain were breathtaking, unbelievable beauty.The academy is in a great location being surrounded by mountains and lakes. It is also easy to get buses to the nearest city which is helpful. Last words about my Tai Chi experience: I came to Kunyu Mountain Shaolin Martial Arts Academy looking for something, searching for myself. What I found here was more than anything I had expected. More than techniques or physical strength, more than friends. What I found here was a family.

Two month Taichi course till May 2019
Esther Mary Nielsen (New Zealand)
We choose to study in China to learn Tai Chi from high level masters and to immerse ourselves into the training and life.Being here increased my confidence. I have found through taking part in morning Tai chi Chuan, I have felt more emotionally stable and more calm. I have found that many students have reached out and given support, encouragement and help. Within my Tai Chi group, all the students are supportive, Johann has been a very good influence to demonstrate good morals and diligence. From other students, Jaime and Saray have also been very helpful and demonstrated excellent values. I settled in very easily to the academy. I very much enjoyed the routine of daily life.
The training was a good degree of difficulty and all the masters are impressive with their experience. The translators are all very helpful and approachable. The area surrounding of the academy is very beautiful, it would be nice to be able to spend more time up the mountain. Muping town is good to visit on the weekend, it has been great to have access to supplies from the market.
Email:Estherdanurse@hotmail.com

Jeremy Nathaniel Fields (USA) One month course till April 2019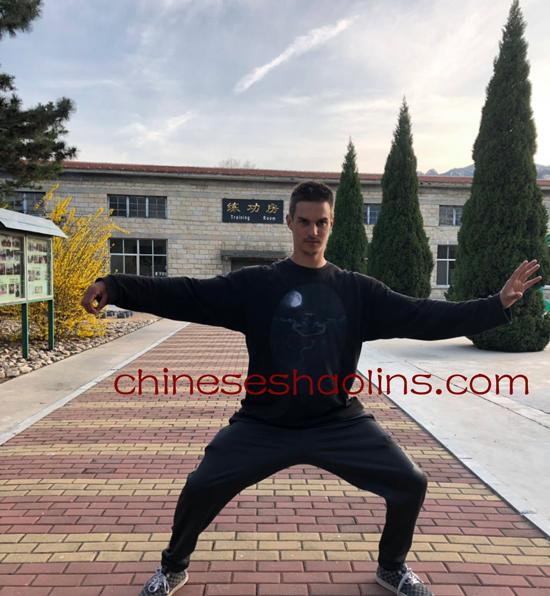 I choose China to study Kungfu because I have had a good experience studying martial arts in China before and because China is the birthplace of Kung Fu. I have learned many valuable things such as new forms and exercises.
I have also gained a further understanding of things I have learned previously.Everyone was genuinely very helpful. I learned a lot from Tai Chi Master Wang and the Xing Yi shifu as well as from everyone else here at the academy. I can honestly say that everything has been great and I feel that the academy operates very well and that life here is very good, constructive, and great for training and self-cultivation. This area has a lot of natural beautiful and the city also is a great place that is not very difficult to navigate.
Email: cityofshapes@gmail.com