I chose to come to China because I thought this would be the best way to get the real experience. To just focus on training and nothing else. I always wanted to learn Martial arts but never had many chances to do so. When I found this school online, I made my decision.
My greatest gain I have noticed is my confidence. I used to be nervous about trying new things and failing. Now I have no problem just doing my best. All of the students have been great. I think seeing the chinese boys work so hard all the time made me want to work harder. Ramy was also a great leader to follow. He always helps everyone as much as he can. Master Gao also has a great way of training. He has made me do things that I never thought I could. I enjoyed living here, waking up, eating,training, sleeping. It was really nice to just focus on training every day. Some days were harder, than others but training through those days makes everything ok . the staff, the translators, the masters were all great. Always there to help when we needed.
So many different lessons being taught and learned daily. It has been great to live in the mountains. It's beautiful around the school. Also it has given some of the best fruit I have had, apples, peaches, and pears have been amazing. It is nice to live out here where it's quiet and peaceful. Thank you Kunyu Mountain!
Email: Joegray332@gmail.com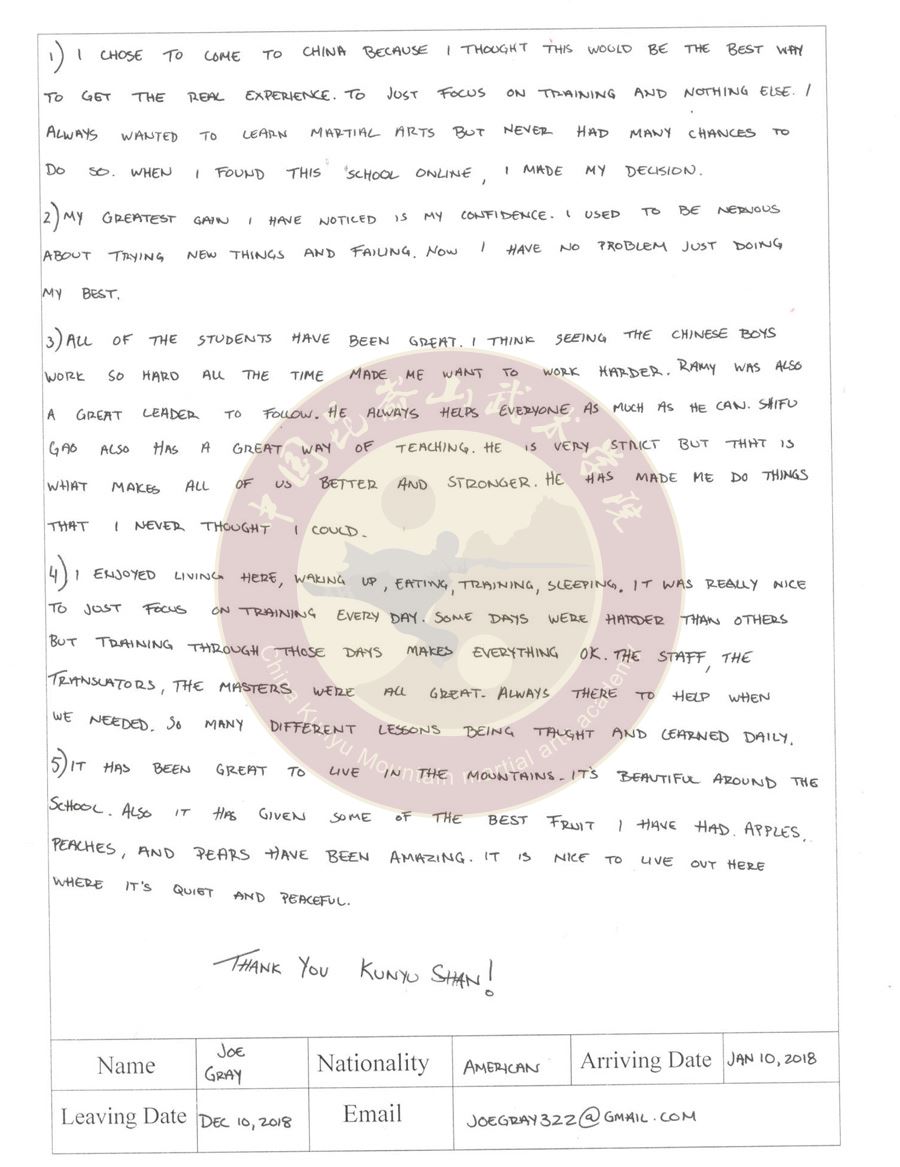 Rawan Zeyad J Sagga (Kingdom of Saudi Arabia )
One month course till Dec 2018
At the first, thank you for all the opportunities to be pant for this school. I choose China because Kungfu is one part of Chinese culture, and I'm always wanted to do martial art but difficult to get a chance. I quit my job I needed a brake and different culture in a far country. Losing weight was my first reason and also to be fit. It was a challenge for me to do a hard training for one month and I did it. I can not say one name or one person, of course my shifu was the biggest help for me and all my group and students even all translators. .
I'm one of sanda group, I cannot describe how my Master was good and professional . I wish I could stay longer with him, my second love goes to the lovely group. They are the best. I really loved being in sanda.? Training was always hard to me, but that means the training is professional. I wished that if we could have Kitchen, and the curfew time at 9:30 also was wired. But I understand it's a school rule.
The mountain was amazing, the area arround is awesome. The view is fantastic. I love it in here. Thank you. Kunyu school was a great experience for me to be one of this school's student.
Rawan training Chinese kickboxing here.