I always dreamed since I was a child, to train Kungfu in China. In the mountain with Shaolin masters. I was motivated by the curiosity to see how far I could have go with my training at my age with my physical conditions not so great at the moment.
I have learned a lot here in kunyu mountain academy - how to push myself beyond my limits and how to train along fellow students and get motivated by each other. I have studied Taoism and calligraphy, Tai chi and Qigong and all have thrived my body, my soul and my spirit. Many thanks to MASTER Guo and coach Loc,both have been very present during the training and their teach up was been very valuable. They know how to push me to my limits and yet respecting my needing to rest my body.
During my time here I had great support from the monitors and the old students. Many thanks to:Darko,Sebastian,Meric,Yohan,Christopher,Alex and Jiconghe. Many thanks also to Gaetano and Sekhy. My experience in Kunyu academy was very good over all.
I loved the training and I gained a fitness that I didn't have for a long time. Sometimes though the training was to repetitive. And I saw myself getting bored especially during the warm up The master,the coach and the translators were always pursuit, helpful and supporting. They indeed do a very good job here. Massive respect to all of them.

The surroundings of the academy are just beautiful. The mountain, the lake, the lakes and the cave are breathtaking places.
Email:rampino.g@gmail.com

Alexander King (Australia) Two months course till Deb 2018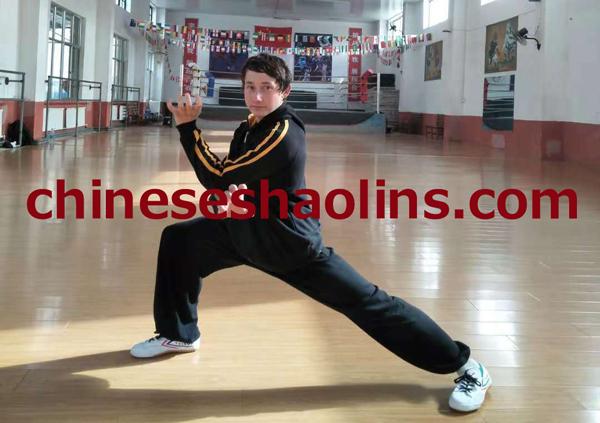 I wanted to travel to China to study Kung Fu because I wanted an opportunity to be independent and to have an experience that would push me to my limits, different to anything I had ever done before in my life. Seeing as I had already done martial arts for the majority of my life, I was motivated to improve it and at the same time expand my horizons in life. I could talk about physical gain or increased flexibility, but I think I gained so much more from training in Wing Chun. The greatest being confidence and self-belief that allowed me to push myself to new limits and expand my understanding of what can be achieved when you apply yourself to your activities. This was coupled with the additional QiGong meditation classes that gave me a chance to reflect and improve my inner mental attitude, making me aware of my emotions and desires so that I could be at peace with myself.
I was influenced by so many people that it is hard to narrow it down. The biggest influence on me was from Coach Loc who had an incredible ability to look within me and recognize my strengths and weaknesses. He helped to push me and improve me so that I could gain what I did from my training, as he was always willing to give advice or additional training every time I seek his help. I was also majorly influenced by all the different international students that I had the pleasure to study alongside with. One of the most enjoyable parts of the trip was sitting outside for every meal on a table that was surrounded by different nationalities, personalities and experiences through each unique person that I got to eventually call friends, it was a huge honour to learn from them and grow into a new person myself.
I started in the Wing Chun group and stayed there from the very beginning. I stayed in this group under the teachings of Master Guo; who was an extremely kind and highly trained master, helped by Coach Loc; a teacher who only saw the best in you and aimed to bring it out, and looked after every single one of his students as if they were his family. Every morning I got up at 5:30 am to train in tai chi and morning Chi Gong before breakfast at 7:00 am, after an hour sweeping the morning class would commence at 8:30 am. There were two morning classes with half an hour break between them, and then we would have lunch at 12:00 pm, before a daily 2-hour rest in which I either sat and talked with friends or napped to gain energy for the afternoon class at 2:30 pm (3:00 pm during summer). Following the afternoon class, I would do the QiGong class taught by Coach Loc which ended before dinner at 5:30 pm. Each night I trained in the training hall before I went to bed, or on Thursday I did calligraphy. Over the week I got sufficiently worked and tired, and over the weekend I was able to rest to start again for the next week.
The surroundings were quite beautiful, climbing up the mountain and viewing the nearby water was very pretty. Each night you could see the stars and each day the air was good quality with only a few exceptions. I did not travel to Yantai city, but I did go to Muping almost every Saturday which was always a nice experience as the city offered a lot of fun activities and unique foods. Overall the surroundings made the trip better.
Email: alex.king.of.castle@gmail.com

Aldo Ramirez Ramos (Mexican) Three months course till Dec 2018
I choose to study martial arts in china because I was looking to immerse in the kungfu culture and training.
My experience training martial arts in kunyu mountain allowed me to improve not only my physical strength, but also mentally. Developed good habits such as getting up early, discipline to train, healthier lifestyle, determination to achieve my goals. Among others, optional classes such as Qigong and Taichi helped me to maintain healthy inner balance, which is something I will walk to maintain after kunyu. I'm really grateful to master Guo and coach Loc for pushing me to become the best version of myself. I received a lot of support from the translators and the school staff when I needed helped. I'm really grateful for that as well.
I leave the academy feeling great of what I learn, the people I met and the memories I take with me.
Email :aaldoSH@hotmail.com
---