Two months course from April to June 2015
I've never done martial arts before, so when there is a place to start Kungfu, it should be the country, where it originated.
The greatest gain during my 2 months stay is that my body got used to the kicks and punches, doing them or taking them and my mental strength/ willpower got better. Because I had to overcome pain and the fact that the training was hard.
When I first got here, I received help from everyone, the masters, the translators and especially from the students. They helped me to get used to the life at the academy and I actually made awesome friends here.The schedule is more or less set. In the morning you start with Taiji and Qigong classes, which were optional, but I was glad. I went into these classes. They're set at 6 o'clock. Then you get breakfast at 7 am.Afterwards you continue with two blocks of training in the morning and two blocks in the afternoon. These were set out of Sanda, basics, acrobatics, forms, power training, power stretching and Qigong classes. You usually have free time in the evening for optional classes like mandarin or you can just spend time with other students practicing.
I love the surroundings here with the mountains, temple, lake and the quiet area. It is a lovely place to train and there aren't many distractions.
Email:

thanh.do@stud.unibas.ch
One month course from July to Aug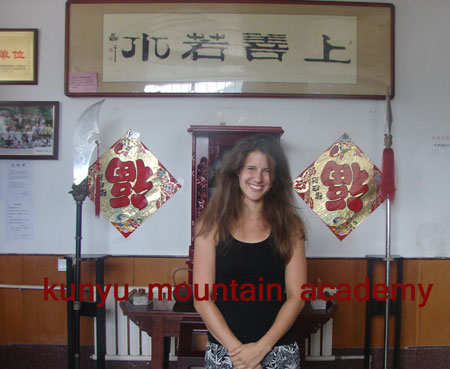 I choose your school in China to study Kungfu because I want to learn Kungfu near mountains and I think if you want to learn Kungfu , you only do it in China, because the schools in Europe are really different. My motivation was also that I love training, and I want to try every kind of sports. Kungfu is very good for inner peace, self-control and health. My great gain is first of all, I learned self-control, peace.......After the training, my leg is much better than before. I just want more power training.
The master helped me a lot. He is a helpful and excellent master.I am very glad to choose this school, for it is a beautiful and experienced place.
Thank you to be a part of this amazing journey and training. I wish the best for everybody at the school.