Two month course from May to July 2016

Belinda Mo (USA)


I was looking for a place far away from home where I could train, and get more fit mentally and physically. I sought self improvement through discipline, peace and calmness.

There are many things that I found have benefited me, but I think the greatest class is Qi Gong. It has brought a new element in my life, which is stillness. Many of the students have helped me out greatly, and have trained me outside of class. And of course, Master Sun has been an invaluable teacher.
Training has really helped me get into amazing physical shape. My cardio, strength and flexibility have all increased a lot. It feels very peaceful here; it is nice to be able to focus on you. The masters clearly put a lot into the training and the translators do quite a lot for the school.
I absolutely love the mountains!!! The nature here is super calming. I can't help but breathing better and feeling happily when we go into nature.
Thank you for everything!!! Much love, I will miss this place so much! I hope that everyone here will do well for themselves.

Email:

belindamomo@gmail.com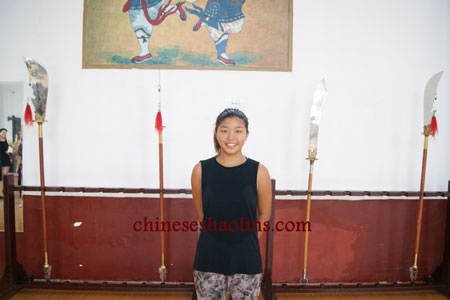 ---------------------------------------------------------------------------------------------------------
One Year course from July 2015 to Aug 2015
Tim Samson (France)
I choose China to study Kungfu because I think it's the birth place of martial arts. Younger I start to be fascinated by watching martial arts movie. I want to get stronger mind too.
During the training here in Kunyu mountain,I start to better understand the way to move my body, to use my mind and to trust myself to achieve my purpose.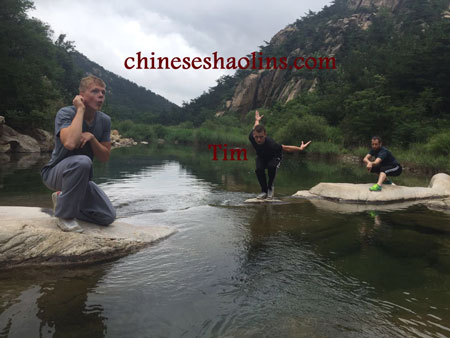 Students showing Shaolin Animal style (Monkey form,Eagle and Mantis)in Kunyu mountain.
Master Gao influenced and helped me doing the basics, forms, Sanda and acrobatics training. His spirit, mind help my to push the limits away.Master Guo's Qi Gong helped me to improve my feelings of my body and mind.
All the masters gave the feelings to be phonated by their Kongfu and each time they explain or show us some skills, I get the desire to do my best in training.
In this place the masters, the air, the mountains are really great, it's a perfect place to train.
Email:

sansontim@hotmail.fr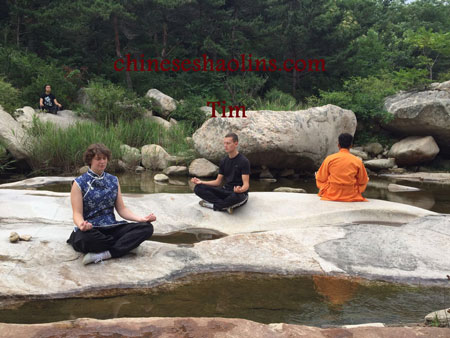 Meditation on Kunyu mountain.