One Year Course from July 2013 to July 2014


Robort (Australia )
A brief summary of my time at the kunyu mountain martial arts academy would be that I really enjoyed my time here and would love to come back again in the future. It is great place to learn wing chun (Yong Chun in Chinese )in China.I learnt a lot about myself and met many amazing people and friends.

The shifu's have been fantastic as well as the translators. My Shifu (master) is and amazing and patient person, a very good teacher. I respect him very much. I studied a lot such as :Wing chun forms,Xiao Niao Tou (Chinese name),Nian Shou,Teng Quan Shou,First Lu and Second Lu wooden dummy forms and its application,sparring,Xun Qiao,Baji Form,Baji San style,Baji Xiao Jia and Chi kung,etc.

Training was fine with freedom to increase if wanted and choose a range of styles to study.My greatest gain from the martial arts training is probably my physical condition. It has greatly improved in my 12 months kung fu training here.I choose China kunyu academy to study kung fu because I wanted to learn from the source, have the semi-secluded atmosphere and life style. My state of mind and lifestyle was motivated as well.

The people who influenced and helped me during my period at the academy were Shifu Guo as he was my master. Another Wing chun master, as he also had a part in some of my training, some of the other students and their positive attitudes.

The surroundings at Kunyu Mountain are very beautiful and progressing to get better with all the development. Yantai city is a fun place to go and have fun with other students. My time here has been stress free- I love it.
Email:Cwgrwp@gmail.com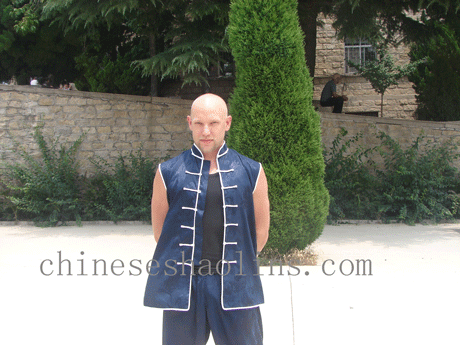 Robert spent one year to learn wing chun here.
-------------------------------------------------------------------
One month training from June to July 2014

Cyrus Jones ( Mauritius)


My experience at Kunyu mountain school was unforgettable. Everyone is sociable, peaceful and fun to be around. If I ever needed help, someone was always to give me a hand.

To study Kungfu in China for these reasons: to become grounded, to become calm,to have greater self-control.After a month I feel a greater sense of self-of "who I am" and I also sense I have greater worth.Many Masters and students helped me :Master Liu, Master Guo, Jonathan, Isabelle, Carlos, Dave, Jane, Alexis, Oleg, Saray and Sam,etc.Both masters were knowledgeable, patient and helpful. Training was tough but ultimately rewarding.The environment was gorgeous. The insects are unique. The city here is resourceful.

Thank you very much for an excellent stay. It was unforgettable, and I hope to return one day.
Email:Cyru.jones@me.com