A Letter to new Students from the Headmaster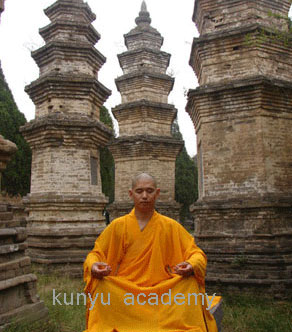 Headmaster meditated in shaolin temple.
Kunyu Mountain Martial Arts Academy offered an opportunity for foreign students to study Chinese traditional martial arts.The academy was conceived when Chinese martial arts and traditional Confucianism,Taoism,Zen Buddhism and Chinese Medicine were integrated. It was opened in accordance with the development of traditional culture, prevailed with the improvement of Chinese nation's integral image, and is getting prosperous relying on the beautiful scenery and humanistic environment of Kunyu Mountain.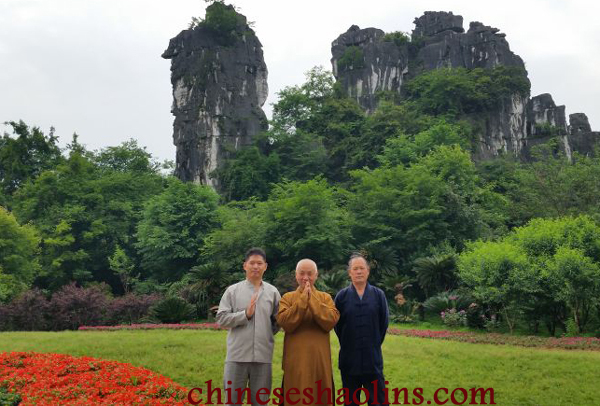 Headmaster (one the left)attending the opening ceremony of Temple in YunNan Province
with Abbot and Taoist leader(on the right).

With the school's development, we have the following aims and wishes: to promote traditional culture, making our school the most appealing international martial arts school in China; and to make our school an elite school for decades, passing on the essence of martial arts. The school mission: to operate a school with characteristics and responsibility, to be masters with advanced martial arts ability and honorable martial arts morality, teaching students who have perseverance and righteousness. The school motto which is also my wish for all students and teachers: to have bright virtue and ambitious goal, to be enlightened and diligent.
Regardless of your skin color, country of origin and religious beliefs, every person will be respected equally. Regardless of your martial arts previous experiences and accepting ability, every master will try their best to patiently help you with achieving your Chinese kung fu dream,which is our promise to you.

Students training with master in Temple next to us.



No pain, no gain. For students who are studying here and are ready to come, I hope you can keep your aim in mind: Have dedicated belief and determination, conquering any distract interruptions and suffering of homesickness, and keep the masters' words in mind, treasure time and study hard with indomitable perseverance; obey school's rules, show respect for each other, help each other with compassion and maintain the school's harmonious training environment; lay a good foundation, inspire comprehension, develop specialty and form your unique skills; behave sincerely, do not be arrogant and give up easily, pursue perfection and have no fear of challenges; with diligence instead of natural wisdom, with improvement instead of previous basics, with skills instead of body conditions, with virtue instead of money, you should try to be a martial arts practitioner with honorable martial arts virtue and advanced wisdom; benefit the world with your special skills and make yourself the pride of friends and school.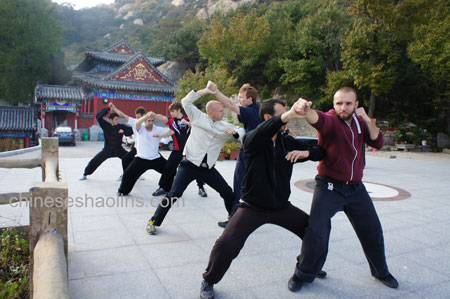 Kungfu Application training in Taoism temple.
As a traditional martial arts inheritor, with benefits from many years of training and experiences, I had my strong and healthy body, and my mind was purified by deep cultural background of traditional martial arts. Healthy body gives me a foundation to create my devoted martial arts career. The purified mind makes me not lose confidence when meeting frustration, makes me have a calm mind instead of being proud or sluggish when making some achievement, makes me not lose myself but keep improve when I feel lost and makes me have a calm and clear mind to make right choices when facing the cross road of my life and career.

As a martial arts inheritor and beneficiary, my wish is to spread Kungfu to the world; my working purpose is to help every kungfu practitioner to achieve their martial arts dreams; my responsibility is to make them to get achievement; my dream is to let all people who can feel the appealing and unique power of martial arts benefit from it.

All martial arts in the world is a family, let's work on spreading traditional kung fu and promoting cultural treasure.