Six Month course from Nov 2016 to April 2017
Helena Ros Gilbert (Iceland)
I wanted to try something new. I wanted to go abroad and study something I had never done before. I had never practiced any martial arts before but wanted to do it. So when I started looking for a place to study martial arts abroad, Kungfu was the first thing that popped up. Where better to study Kungfu than in China itself? I chose China because I wanted the full immersion of studying Kung fu. To study Kung fu the Chinese way. To learn Chinese culture, language and beliefs.

My greatest gain from this place is the renewed spirit of life. I feel stronger in body and mind. Daily activities such as walking up stairs or cleaning my room don't feel nearly as tiring as before. I feel improvements in my flexibility and more comfortable with movements of my body. I will take a lot from this place to implement in my life in the future.

The people that influenced me the most have to be the people that come here. Every person you meet you can learn something new. Master Sun, was a big influence and helped me train harder than I thought I could. He pushed me past my limits and made me not want to give up. He is kind and has had a lot of patience. He is a good teacher. The older students also definitely helped making my training more fun and made me want to train harder.


I really liked my stay at the academy. Training is good and can be quite intense. Daily life is full of people and things to do. Masters will push you harder than you thought you could. Translators are always ready to help you and nice to talk to. Life becomes so simple. You don't have to worry about not understanding Chinese, because the translators are there to help. You don't have to worry about food, you just have to show up at meal times and it's there, ready for you. You don't have to worry about not being able to get something you need be it snacks or anything else. There is a small shop inside the school with a very nice old shop keeper. There is a supermarket very close to the academy and it's very easy to get to Muping or Yantai if you need something else.
The scenery here is amazing. The academy is nice and clean, the playgrounds have beautiful trees and bushes. There is even 3 nice dogs on the grounds which love to be petted. The mountains are splendid, especially when we go up the Big Mountain, the scenery is absolutely breathtaking! The mountain we usually go up on fridays for mountain run, and in my group on wednesday for qigong, has this beautiful temple and things definitely worth it to see. The air is fairly clean. Much more cleaner than Beijing or any big city. We often go to Muping or Yantai during weekends. Muping has a nice market street, internet cafe, restaurants, street food and supermarkets. The buses are cheap. And what you cant have in Muping, you'll find in Yantai. In Yantai we usually stay at this youth hostel on bar street which has the best service! And close by there is the bakery, the dumpling place and the one and only Joycity.


Email :steingeitus11@gmail.com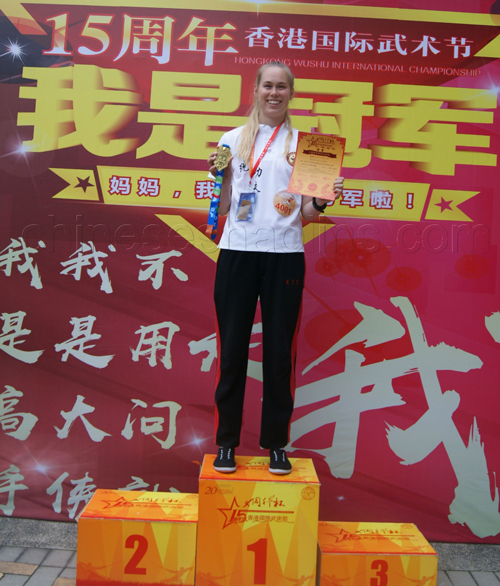 Helena attended the Hongkong international Kung fu competition