Almost Five Years Kung fu course till 2019 Year November with their handwritten reviews attached based on the questionnare feedback paper:
Giovanni family with Two kids (Colombia and Australia)
1.I came here to China to experience the mountain language and Kungfu culture. My motivation was leaving modern city life to improve my fitness and reduce stress. By living in a small Village.
2.My greatest gain from Martial arts is improving my posture and the way i used my body. And my mind is very calm from living a Kung fu life style.

3.Kunyu mountain staff are all well trained to help you get what you need. So i want to say that i have a lot of respect for my second family here in China.4.The training in Kunyu Mountain is great, the school is great value for money, the staff are amazing. I will come back again.
5.The location is fantastic, i have seen many places in the world and i can say i love Kunyu Mountain.
Reviews from Wife :Ingrid Mesa
1.I have always been fascinated by China and everything that evolves around its culture. One of its greatest contribution to the rest of the world is Martial Arts (Kung fu), with all its charm magic, physical and mental challenges, got our attention. So we decided to embark ourselves in this adventure. With no doubt. It's been a wonderful experience for all of us.
2.There are countless benefits that i have gained from Martial arts. The whole philosophic,spiritual,physical,mental concepts involve are great and have touched me in many ways. I gained self discipline, improvement, courage,flexibility, strength,physical abilities such as endurance,explosive power,breathing techniques.
3.The first person that influenced me the most was our initial Shaolin Kung Fu Master, Master Wang. Though he was young, he had a vast and broad knowledge of martial arts. Then i had the honor to train with master Guo, his understanding and state of mind are complete focus about martial arts, his abilities are mighty and impressive. So he is willing to share it with us at anytime. He is a hard working master that has dedicated his entire life to teach and spread the ancient and traditional chinese martial arts.
4.The training in Kunyu mountain has been incredible, been able to learn,experience,live and share it, with the masters, translators,staff,students has been amazing. Special thanks to the translators for their help. They are the most helpful people that i have ever met. I will always remember and cherish them all.
From Son Reni:
1.The reason why i'm in China is because my parents decide to move to china, for us to learn Kungfu and mandarin, and not a day goes by that i do not feel grateful.What motivated me was my beloved masters and my encouraging friends and classmates.
2.I have not only became a better version of myself, i have learnt patience, determination, motivation and how to take care of others. And i have learnt a lot from the people around me.
3.The peoplewho influenced me were the masters, Gao,Sun, Guo, and both the coaches.
4.Training in Kunyu mountain has been amazing experience, both for the body and mind. I have learnt how to be more respectful around others, no matter the age. And i wouldn't be the person i am today if it wasn't for the masters and the translators of the academy. They have become my second family.
5.The surroundings of the academy are breath-taking, training in this environment has been great, being able to swimming in the lake during the summer has been so refreshing.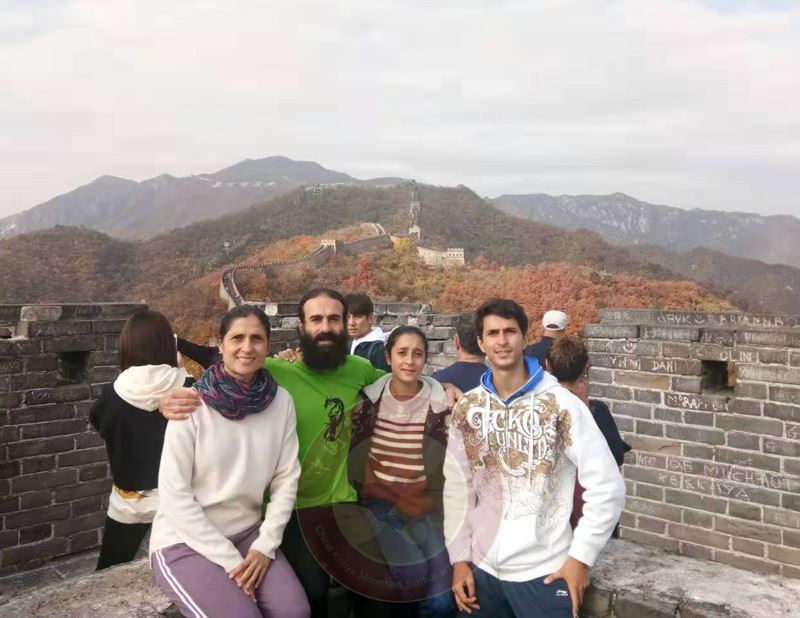 In Great wall Beijing
Click to see their Reviews five years ago: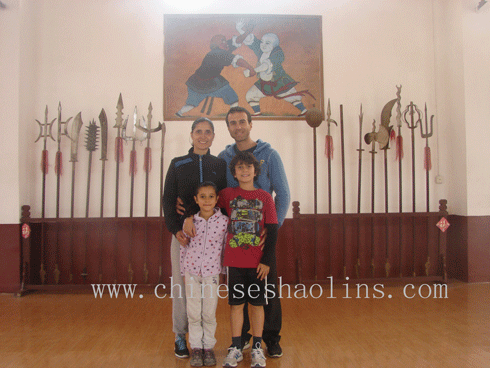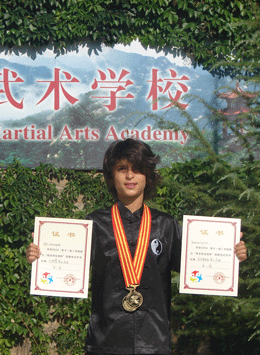 Reni got gold medal and certificate from international martial arts competitions in 2014