2011 Reviews from Jan to June
One Year From August 2010 to August 2011
Philip returned to learn shaolin kung fu for another two months in summer 2012.
Philip Margetts(Germany) Returning Student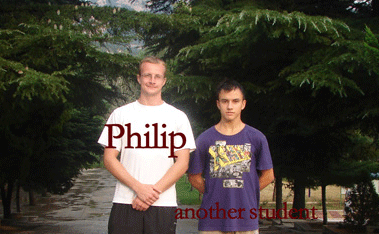 One year I have trained shaolin kung fu at the Kunyu Mountain Shaolin Martial Arts Academy. It has been by far a great experience for me to learn Shaolin Kung Fu at this academy.

My shaolin Master is a great master and I am thankful to have been his student for all this time. He is always patient, kind, helpful and when it comes to training he is strict and pushes you hard. I benefited so much from his shaolin kung fu teachings and achieved much more than I've ever expected before I came here.All the other masters have been very kind and patient with me and it was always fun to train with them.
During my training here, I met a lot of people from all over the world, it has been great to train with them. I met some crazy and very dedicated people which enjoy training as much as I do.
The academy facilities are good, the food is very nice as well as the accommodation. The academy itself is surrounded by mountains which offer a stunning view and a perfect kung fu training area.
The next city (Muping) is located about 30 minutes away and the next biggest city (Yantai) is about an hour away. So there is always somewhere to go on the weekends.
The atmosphere is always nice at the kunyu mountain academy and it never gets boring. I had some great and funny times here.A big thank you to all the translators, especially Jenny and Wendy, for their kindness, patience and for helping us understanding the masters, it is a tough job and they are very good at it. Thank you.
It is sad to leave this place which has been my home for 1 year. I'll certainly miss it and hopefully be back for more training with my master.
Email:Pjrm0@aol.com
---
Two months from June to August 2011

Nana(Denmark) Nana will return for another four months training in Next February.
I spent two months with my friend Jessica to study in Kunyu mountain shaolin martial arts academy.I am very content with my master, he could correct a bit more when students do wrong,he is a good, funny and carrying master. Nice translators.
The shaolin kung fu training is hard, but very good. I have discovered a passion for kungfu-thank you for that.To keep the good atmosphere going, it is very important to make sure the new students who arrive will be welcomed and nice introduced by the other students. We were, and it was really great.
I have enjoyed the beautiful surroundings, as well as the every day routine.Yantai City—Beautiful city and good nightlife.
Email:nana.reimers@gmail.com

---
Two Months From June to August 2011

Anders Mccannn(Australia)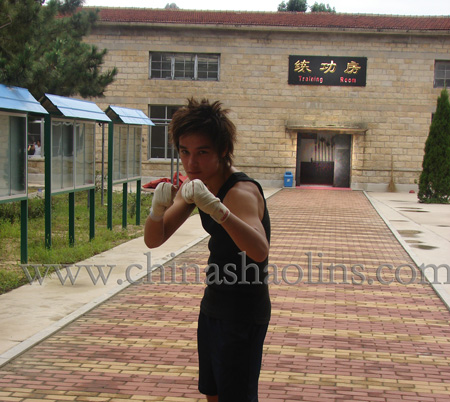 The Training programs in kunyu mountain Shaolin martial arts academy are very organized. It is tough but is worth a million. Training makes me understand that there is a reason for everything. When I come back next I definitely will be more prepared.
Master: I am fortunate to have land on the best master. Learning wingchun with Master Guo makes me realize that he is the master that I am looking for and only one master. I am really grateful for his time and his experience. When I return next, hopefully be better and more disciplined.
For daily life,there are people from all around the place, gives me a chance to meet a lot of nice and kind people.
Email:arkanders@gmail.com
---
Three months from May to August 2011

Will Oliver (America)
I spent three months to learn Wing chun here.Wingchun master here is an amazing teacher and martial artist. I am very happy that I got the chance to learn wing chun from him as well as the other masters. The translators here were all very helpful as well. They did a great job. I will treasure my time here for the rest of my life. Although I hope to return someday as well.
I love the peaceful atmosphere and beautiful surroundings. This is an amazing area.
Yantai city is a wonderful place to visit on the weekends.
Email:Splicerdbz@msn.com
---
Two month and half from June to August 2011
Natasha (America) and Son- See their family reviews:

Email:natashi@maie.com

Michael Braverman (America)

Email:Mbraverman96@gmail.com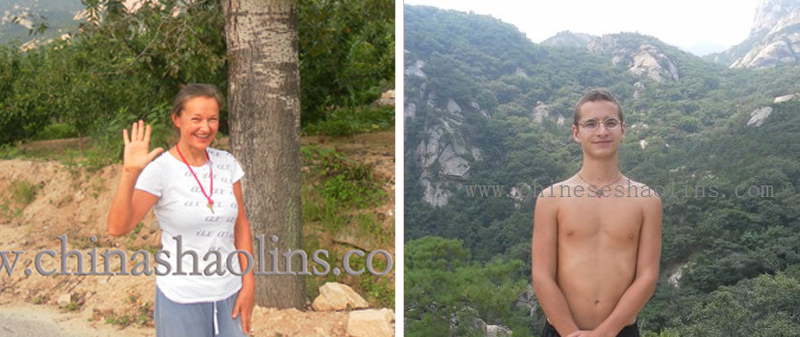 ---
Four months training From March to July 2011

Soren Brogge(Denmark)

I have really enjoyed my time here to learn Shaolin kung fu at the Kunyu Mountain Shaolin kung fu school.

I could not find a better master than shaolin Master Rong. He is really good at pushing me to my limits and very good at teaching shaolin kung fu. He has a great personality and is very funny to be around. if I come back I would certainly want him to be my master again to learn kung fu with him.
The translators were always a great help, especially Jenny and Wendy(translator). They are very good at translating and making the daily life easier.
The surroundings around the academy is very beautiful and is perfect to give a good shaolin kung fu training environment.The daily life is great, it is really nice that the only thing you really have to think about is training, and having fun with the other students.
Very Good place to learn shaolin kung fu.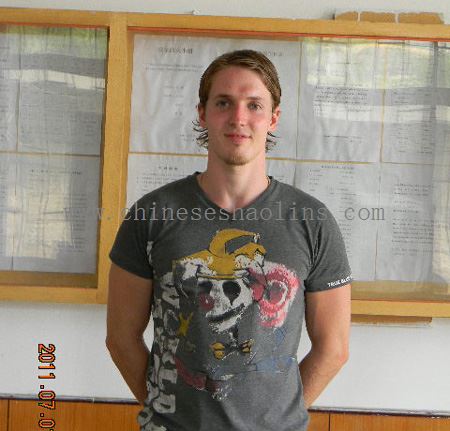 Email:Sorenbrogger@yahoo.com
---
Four weeks from June to July 2011

Chris Pinner(UK)

The master is an excellent Shaolin kung fu master. Training well balanced. He knows when to push you hard and when relaxtion would benefit the students. Master has fun while mattes training enjoyable, but he also commends a lot of respect and any skills. Slow training is not tolerated. This is good.

All of translators are helpful. Jenny (school translator)is fantasy, very helpful always. Wendy is very good. Sarah is very good. She was helpful with the package problem.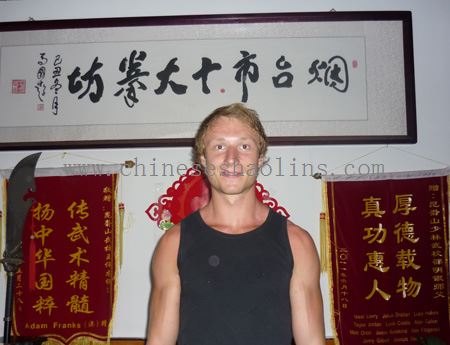 Yantai city is beautiful. Kunyu mountain shaolin kung fu school has created a very friendly, warm and special aumosphere which it will do well to keep the number of students increases. Sometimes too tired to actually go out at the weekends but the academy is in a beautiful setting. I think the kitchen staff do a good gob, are very patient and nice people.
Good place,taxi is easy to organize and felt safe.
Email:chrispinner@hotmail.com
---
One year training From June 2010 to June 2011

Joseph Walker (America)
I spend one year to learn Wing Chun here.The training at Kunyu mountain shaolin martial arts academy is amazing. The masters here are some of the most proficient martial artists in the world, and they all have a great passion for teaching.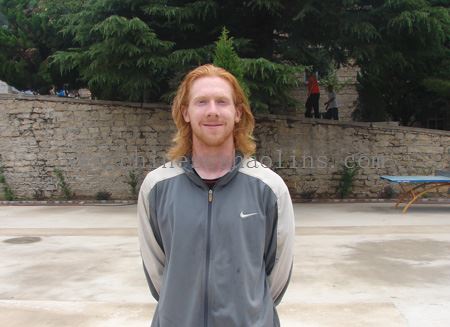 Wing chun Master here stood out to me as an amazing teacher of the martial arts. He is a man who will require all of his students to train basics every single day and who will always take the time to correct students and answer questions of wing chun. Master Guo would even take the time outside of regular class to ensure his students were learning at the proper pace.
I found the language barrier to be quite the challenge, but the translators and staff are all friendly and do the most they can to help you understand. Also the masters here all seem to work on learning basic English so that students can better understand in wing chun training.
The mountains surroundings the academy are nothing short of breathtaking. Taking the time to explore the national park where the academy is located is a large part of making the experience at Kunyu mountain great.
Yantai is the closest city to the acadmy and has all the stuff that you would expect from a city.
Email:Walker.joseph01@gmail.com
---
Two months From May to July 2011
Abdul Mukati (America)
Dear master Guo,
Since the first day I stepped into Kunyu mountain Martial arts Academy you have been the light who has shown me the way. You are my inspiration. During my two month stay here at the academy you have taught me not only martial arts but what it means to be a practitioner of the martial way. You have taught me the way to act and react, the subtle mannerism of Chinese ways. You were like a father to me and you treated me as your son. I wish I could have stayed longer, you have so much knowledge it feels that if I had many life times to learn from you I would still feel that time was not enough . You are the greatest teacher I ever had; you understand me and your smile always heart soothing. You always asked us if we had any problems with anything around the academy, you were always there caring for us.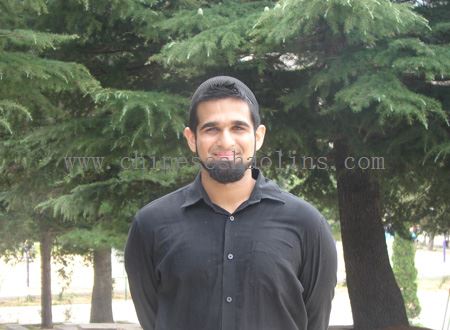 I do not want to say good bye to you, I want to be your student to learn Wing chun forever. I am proud to say that I am a student of master Guo. I hope that I will one day become a student you are also proud of.
Sincerely
Abdul
Email:Mukati.abdul@gmail.com
---
Loc le Van(France)-Four -Year Kung Fu course
Click here to see more
Email:Email:Loc.lexardie.le.van@gmail.com
---
Three weeks from June to July 2011 summer

Cecilia Orsingher(Sweden)
Cecilia and her daughte will return in June 2012 to learn another one month.See their review

Email:C_orsingher@hotmail.com
Cecilia's daughter:Ellinor Email:Drahmwordelli@hotmail.com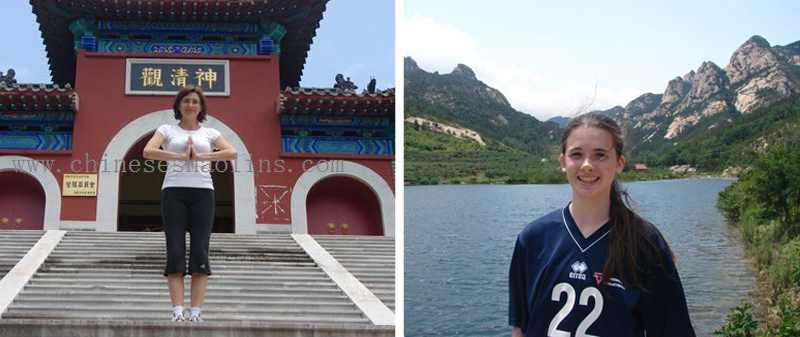 ---
Three months training From March to June 2011

Isaac (Australia)
My experiences at Kunyu mountain Shaolin Kung fu school.Words can't express how amazing the training,my shaolin kung fu master and all the translators were. My master was incredible, he has pushed me further than I have been before and I am deeply grateful for what he has taught me and has inspired me to reach new levels in training and life.
To the translators I am very thankful for as well. They have all been amazing help, especially James who again words cant express how thankful I am.Living here at the academy has been amazing as well. The rooms and showers are good, the academy itself was also amazing.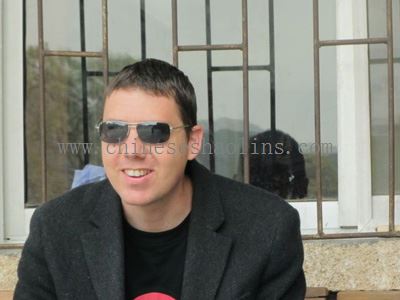 Email:Isaac_lawry_91@hotmail.com
---
Two months training From April to June 2011

Jakub Darzan(Czech)
I came kunyu for hard training and I get it. The shaolin kung fu Training was good balanced and after 2 months I feel big progress.
My master was the best teacher and I like the way how he pushed me train hard and better.
Translators were very good, nice and helpful. They were ready to help at any time. And also the mandarin class was very good.
Thanks a lot. I am very satisfied.Daily life, surroundings of academy is perfect, it is a very nice place,perfect.Yantai city is very nice with a lot of entertainment and fun.
Email:chandros@volng.cz
---
Ten months From September 2010 to June 2011

Mikael Hedegaar(Denmark) See His Review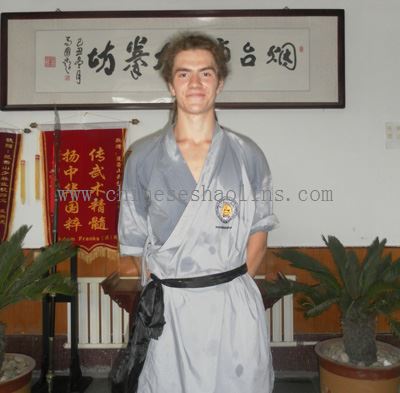 Email:Hedegaard-mikael@hotmail.com
---
Three months From April to June of 2011

Gary Manners(UK)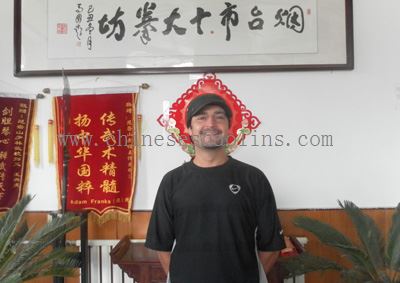 I believe the kung fu training provided by the Masters at Kunyu Shaolin Kung Fu Academy to be very good. I was particularly impressed by the maintenance of discipline and motivation of myself and other students. Being one of the older students and having had no previous experience of Chinese martial arts, the endeavor was very physically and mentally demanding for me but this was helped greatly by the discipline exhibited by Master Rong and his understanding at times when things really become just too much. The shaolin kung fu school is very dedicated to providing a good level of training, particularly for the most willing students. I would have been even more impressed if there were further explanation of forms at times.
Translators were adequate but I feel some of the words of masters were lost in the translation.
The training schedule was excellent but very demanding training 5 days a week. The academy is attractive and mostly well maintained and its setting in the National Park.

The city we located,Yantai is a very attractive and modern city with a great beach and some fun nightlife. What a bonus to be able to sit sleeping cool draught lager on the beach on a hot day!I really like to learn kung fu here.
Email:garymanners@hotmail.com
---
Six months From December 2010 to May 2011

Laperle Benjamin(France)
Training Master and Translator of kunyu mountain Shaolin Kung Fu school.

I came in China to find a good school to learn Shaolin and it is what I found. The training is very complete: form, conditioning power stretching… I enjoyed every training. Masters are very good and patient. i improved a lot with their advices. I like to train with my shaolin master because he is very precise and a good teacher. Translators are very friendly and helpful. They always help me when I need it.
The life at Kunyu mountain is very peaceful. In the academy, all the facilities are great. I like the condition of life, my room, bathroom and training hall.
Email:benje-mamias@hotmail.com
---
One month From May 2011 to June 2011
Cathal Hardiman(Ireland)
All of the translators were very open and friendly. They were always keen to help me or any other students who had any problems. Their English is of a high standard and I learnt a lot of useful mandarin from all of them in the classes. My favorite translator is James. He is a genuinely nice guy with a good attitude and a good heart. Master is an amazing martial artist and a very effective teacher. Despite the language barrier, I feel that I became quite close with him during my time to learn kung fu here. He is capable of conducting classes in a light-hearted manner while still maintaining respect. This is the true mark of a good teacher. I feel honored to have been his student.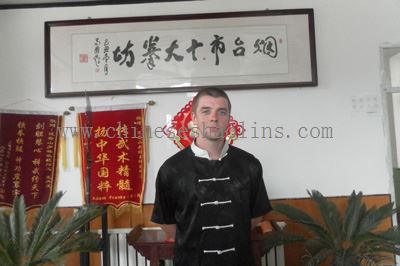 The academy is an incredible place to live and train. Being surrounded by martial artists from all over the world, each with different skills to offer, was eye-opening and inspiring. The food was very good and the rooms are comfortable. The City is a lovely environment. It is nice and clean, and holds many attractions to keep a visitor occupied for a number of days.

---
Seven months From Ocotber 2010 to May 2011
Tom(UK)
1、 Training Master and Translator
I spent seven months to study kung fu in kunyu mountain shaolin kung fu academy.I could not have hoped for a better master than master zhang, his training was at a very high quality, delivered in a perfect and friendly manner. I will miss him. All of the translators were very friendly, speak good English and were always happy to help. In all, I will miss my time here at the academy, it has been very hard at times but I have taken a lot from it. Thank you.
2、Daily Life Surroundings of Academy
The local surroundings are beautiful and provide a perfect settings in China to study kung fu. Chi gong up on the mountain side is particularly special.
Email:teeciays@gmail.com
---
Three weeks From April 2011 to May 2011
Abhishek (UK)
Encouraged a relaxed training atmosphere. He was attentive to all students individually. I found his teaching( Wingchun, Taichi, Qigong) easy to follow and feel comfortable asking questions. Approachable and at times authoritative. I feel privileged to have been taught by him.
Translators: James, Jenny, Sarah, Susan, Sophie
James was at the airport to meet us. He has been very helpful throughout, as have all the others. The mandarin classes were useful.
Training: I spent my three weeks to learn wingchun( plus optional Taichi, Qigong). Warm ups were ok, stretching good. Other stretching training is different, depending on group but it was good. I wish I could have learned Baji, but time didn't allow, students who have been here a while seem to progress well and use weapons. I would have liked to learn an animal form. The wingchun style I very much enjoyed my time.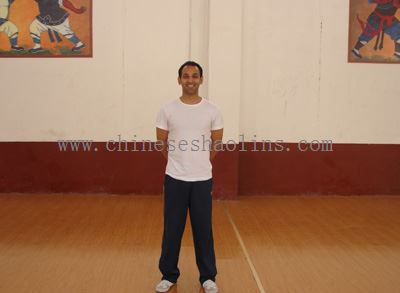 Beautiful surroundings of Kunyu National Park, helps the atmosphere of the academy. Nice to walk around during time off. Mountain run is tiring but enjoyable! Daily life depends mostly on other students one spend time with. Three meals provided that, found fine, though I bought peanut, butter for breakfast. Excellent training facilities( traditional weights, acrobatics, sparring, conditioning)
Accommodation perfectly acceptable for 2 per room. Classes such as mandarin very enjoyable.
Shopping trip to Muping district we located. Good for grocery, shopping, bank, food, massage!
---
Three months From February 2011 to May 2011
Neville Abbot(UK)
Training Master and Translator at Kunyu mountain shaolin martial arts Academy
I thought the training and my shi fu were excellent. Personally, I feel my shi fu perfectly caring about everything which is great about kung fu. Although I will never be as good as my shi fu. He has given me something to aspire to!
All the translators are very friendly and speak very good English,overall, very impressed.
The academy is in a beautiful part of China. It is both isolated, but near enough to Muping and Yantai.
Email:benje-mamias@hotmail.com
---
Three months from January 2011-April ,2011
Philippe Weber (Ireland)
Shaolin &Sanda (Chinese kick boxing)class
I spent three months to learn Shaolin Kung fu&Sanda at Kunyu martial arts academy. I was so impressed with Master' s training that I decided to stay .
He was very good at showing and explaining each punch and kick of Sanda/Chinese kickboxing, especially the side kick that I had so much trouble with for nearly 2 months. Within a few days my side kick was 100 times better and continued to improve. His sanda class was also extremely good. He pushed us very hard physically and concentrated a lot on techniqe . Under his tuition my staff form went from feeling very uncomfortable and unnatural and slow and disjointed to feeling fast and powerful and rhythmic. I do it with confidence now and knowledge of the applications.
His teaching of grabs and takedowns and wrestling was really good. He explained the technique,applications and when to use them very thoroughly. In the short time that I trained under master shou I was amazed at the progress in my staff form, sanda, basics (especially kicks) and my flexibility. This kind of progress I could not have made anyway, even with more time, it was down to his training. He was very good at teaching us as individuals rather than as a group, he always made points to each of us and was very good at spotting our weaker points or what we struggled with and found difficult and correcting it until we could do it with confidence . He encouraged us to train with a smile, he was a nice master.
Email:philippemedvedevweber@gmail.com
---
Two weeks in April ,2011
Tina Hedegaard(Denmark) Shaolin Kung Fu and Sanda Class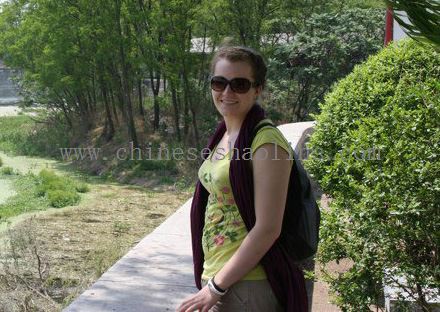 As expected training here was hard, but that is partly why I came here. And it is not unreasonable. You're pushed only as far as you can go, and then just a little further, which I found to be a great challenge. I have been very happy with my master, shifu Rong. I'm impressed by his great skill and delighted by his personality. Should I come back I would choose to be his student again.I found all translators to be very welcoming, patient and helpful.
I really enjoyed the simplicity of life here, combined with the beautiful surroundings it has given me great peace of mind. As European there are quite a few things to get used to, but for me that is part of the experience.
I've been to city - a great cultured experiences.
Email:hedegaard_tina@hotmail.com
---
One month from March-April ,2011

Lagleize Michel(France)
Bagua&Mantis Class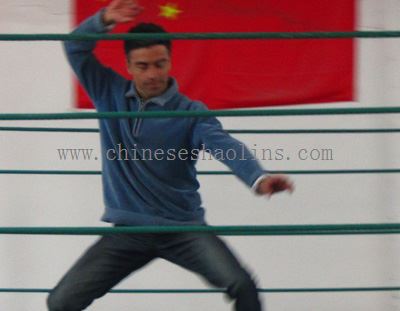 During my stay here, I appreciate a lot to the schedule, different kinds of training and also to have the opportunity to train at different places: on the way to temple,outside (on the mountain,by the lake), inside, etc.
My master paid attention to me and organized for me especially a program of Bagua…. Thanks to me.
All the translators were very kind.Good food especially lunch time and dinner.
I enjoyed walking to the temple, in the mountains and cave with the group and on my own. Talking with many other students was a pleasure.I went to Muping district and enjoyed it.
Email:Lagleizem@yahoo.fr

---
Six months From September 2010 to March 2011
Samuel Jack Barnes(UK)
Samuel Jack returned on May 8 ,2011 to learn for another one year.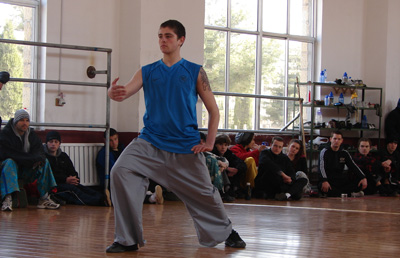 The Photo of Barnes is in the grading exam.
Learn wing chun and baji and Taichi
Training- The kung fu training at kunyu shaolin marital arts academy is excellent. The routine is fantastic and not boring.
Master- Master Guo is an amazing master. He is very helpful towards me, friendly and keeps students motivated by pushing them hard.
Translators- They speak good and clearly and help students communicate with masters work.The academy is nice, the surroundings are beautiful!The city is very nice, good shopping, nice people.
Email:Elbarniyo@live.co.uk
---
Four weeks in March 2011
Samuel Stones (UK) Shaolin kung fu and Sanda Course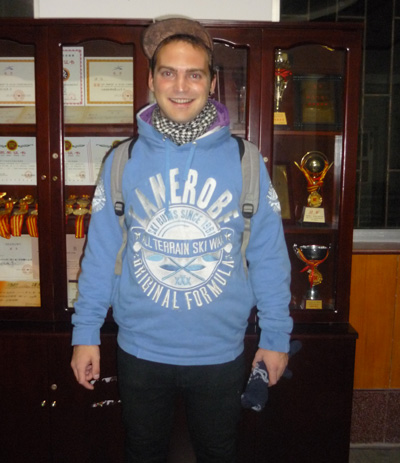 The training has been an incredible experience and lived up to all my expectations I am sad that I am leaving as I feel I would have easily been able to stay a lot longer. I think I will return with my brother next year in the summer. I have learnt a lot since I have been here and look forward to hiding somewhere at home to continue. The master has been a great master and been very holler cut with my lack of experience.
Outside of class we have become friends and enjoy playing basketball together. We had a great meal with the whole class where we all bounded a lot. The translators are very helpful and always go out of their way to do things for you.
The academy is in the most beautiful location surrounded by mountains and rivers. It is nice to be training in such unique landscape; it really helps your state of mind. The rooms are really nice and the showers are good.
I have met some great people here although it has been a short stay I am sure I have made friends for life.
Yantai is a very interesting city. I only went once while I was staying here and did some shopping. The clothes and electricals are very cheap and prices are flexible.
Email:Samuelstones@hotmail.com
---
Four weeks From March 2011 to April 2011
Monica Cabrol(Portugal) Shaolin and sanda and Tai chi course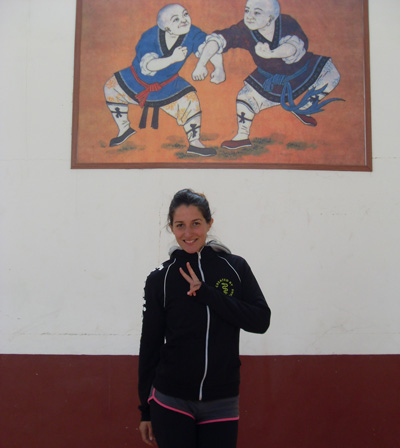 I have really had an amazing kung fu training experiences at Kunyu shan shaolin Academy.

The location around kunyu academy was so beautiful and scene really helps you focus on your training and have no distractions. The training was even better than I expected, really enjoyed the variety. Having tai chi and Qi Gong in the morning was the perfect way to start my day and then having forms, acrobatics, power stretching, power training, sanda, was just the perfect combinations.
All the training was made even better with Master, I couldn't have a better kung fu master. He really made training so much better, pushing me to the limits, teaching me with patient and really being caring about us and how we were doing. He knew how to be strict with us.We had amazing group and everyone says how much they will miss Master Rong. I will miss him, he has been an amazing kung fu master!
About the translators all of them have been very sweet and helpful.The daily life at the kung fu academy was good, since you had such a set schedule the days go by very fast. The surroundings are just beautiful, its so nice to run on Friday at the temple and on weekend to go for a nice walk around. The kunyu mountains are just incredible.
Yantai city was very nice, I get a chance to explore the museums, Peng lai city and the area by the beach. But one of the things that impressed more about my visit to Yantai were the people. Everyone is so sweet and respectful.
Email:discover.monica@hotmail.com
---
Three months from November to February, 2011

Daniel Ong(UK)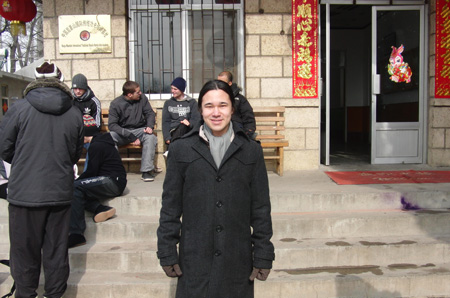 Learn shaolin kung fu at kunyu mountain kung fu school in China.During my time here, I trained kung fu under two masters, first Master Rong and then Master Zhang. While each master's teaching varies I enjoyed training under both of them. They were both very impressive and very powerful. I found the kung fu training very difficult at first however the masters are always there to help encourage you to train hard and well and as a result you form a strong bond with them.
While the academy is some what isolated on the outskirts of Yantai, daily life here means being away from shops and hars and city life in general. Bring a laptop here is essential but otherwise there isn't a great amount of things to do here apart from train. Train kung fu and hang outside with the other students have a lot a fun.
During the weekend, many students opt to go to Yantai or Muping to shop, eat, go clubbing or relax at the bath house. The weekend break for me was always good just to relax and spend time with other students.
Email :daniel.ong@ntlworld.com
---
Four months September-January 2011
Ignacio Arbex (Spanish)
Ignacio returned to academy in May 2011 for another two months kung fu training.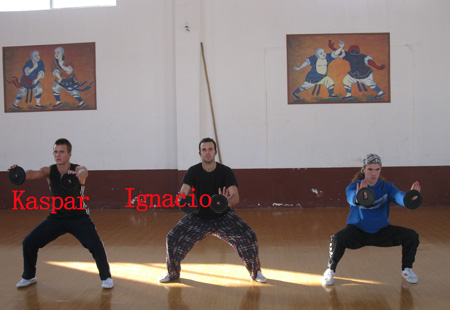 kung fu training experiences,learn shaolin kung fu &Sanda(Chinese kick boxing)
I can say in all honestly that these have been four of the greatest months of my life. Once you get past the first few weeks you start to notice the improvement and it makes you want to train kung fu harder and harder. Also it is a place where you will grow mentally as it can be very exhausting psychologically. Overall it